Module:Shadows Upon Lassadar
From Vassal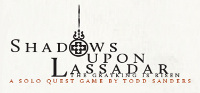 Files
Filename
Filetype
Size
Date
Compatibility
1.0
SULv1.0.vmod
module
7.64 MB
06-Jul-2012
3.2.0
Module Information
| | |
| --- | --- |
| Maintainer | barbanera |
| Contributors | barbanera |
Comments
Version 1.0 released on 6 July 2012 with permission from the author.
This is a solo print-and-play game. This module automatizes certain procedures but not all.
Please see release notes after starting a game for module specific instructions.
Refer to the game manual for the complete rules [1].

---
Use the forum, section Module Support, to discuss the module and report any bugs.
You can also contact me via private msg (on Vassal or also on www.boardgamegeek.com).

Screen Shots
Players