Module:Star Wars: Armada
From Vassal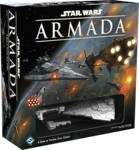 Files
Module Information
| | |
| --- | --- |
| Maintainer | Green Knight |
| Contributors | ransburger, JJs Juggernaut |
Comments
Watch some tutorial videos on YouTube
Join the Facebook matchmaking group
CURRENT BUILD
Version 4.7.0
Rapid Reinforcements I added.

HISTORICAL VERSIONS
Version 4.6.1
Compatible with VASSAL 3.6.5
VASSAL World Cup 2021 OFFICIAL VERSION.
CLICKABLE action buttons.
FULLY hotkeyed maneuver tool.
Version 4.5.0
Bugfixes and graphical updates.
Version 4.4.0
Version 4.3.5
Adds additional spoiled w10 content.
Version 4.3.0
Adds spoiled w10 content.
Version 4.2.5
Fixes the bug where half the chat messages are delayed.
Version 4.2.0
The maneuver tool is now capped at 2 yaw for any given joint (which incidentally fixes a known man tool bug).
Some reports are color-coded (WIP).
Version 4.1.0
Adds final CW cards and updated cards from Card Pack.
Non-recurring cards no longer refresh automatically.
Version 4.0.0
Clone Wars factions added: Republic and Separatist.
Graphical enhancements for Empire and Rebel factions.
Standard-sized maps (6x3) contained in main module (no need for map pack). There are 20 maps: 10 SW themed and 10 generic space.
Mini-maps (3x3) moved to main module bc of popularity of RitR/task force games (no need for map pack). There are 5 maps, all of them generic.
All extra maps put into one unified Map Pack (ArmadaExtension_MapPack_4.0.0.vmdx).
Version 3.12.0
Kyrsta Agate officer card now had the right image (instead of Kyrsta admiral).
Fleet Command back was rescaled to match larger card fronts.
Fixed typo in Doomed Station (pieces menu).
Proper scans of English versions of Heavy Fire Zone, Flag Bridge, and Local Fire Control.
Replaced some cards with better quality images (SSD titles except Ravager, Vader boarding, SAdv, Piett, Pal (off), Ord Porgs, HIE. Draven).
Added RitR Condition cards.
Version 3.11.1
SSD once again has correct range/distance overlays (bug reintroduced in 3.11.0).
Updated Onager range overlay to remove the holes I accidentally made when creating the first version.
Restored card back for Fleet Command (it got left our when I rescaled all the upgrade cards).
Spawning MC75 Ordnance now spawns the correct version of MC75.
Spawning Super-heavy Turbo now works from quick menu.
Added Imperial Presence sticker from RitR.
Version 3.11.0
Upgrade cards now rotate properly when exhausted/unexhausted: Values were updating correctly, but card's weren't visibly rotating (only found in 3.10.6).
Spelling error in Magnite CRYSTAL Array fixed.
Zertik Strom finally spelled correctly.
Bigger upgrade (and squadron) card images: It's now much easier to read game text. This is how big they get, so don't ask for even bigger cards. Many card images were renamed to comply with naming standard, so expect to get at lot of "Bad Data in Module" messages if you use it with older versions.
RitR campaign map added: You can now use the RitR map the same way you use the CC map (place stickers). I was really hoping to find a good quality scan, but couldn't find any. The map is a hack job, made using a small document scanner and then pasted together.
More solid graphics for Starhawk ship model (it was permanently faded).
Larger Onager ship model (it looked puny)
Optimized some of the png files to save space.
Cleared out some unused png files to save space.
Version 3.10.5
Fixed the SSD distance overlay (too short in the rear).
Crit card Faulty Countermeasures (x2) no longer show the Injured Crew card.
Restored missing MC80 Battle Cruiser image.
Removed overlapping key commands to prevent some ships (those with evades) "jumping around" when default setup is triggered (though it looked quite festive though).
Strategic Adviser added to quick spawn menu.
References to 'a Volley' token chanced to 'a Salvo' token.
Fixed bug preventing Palp from spawning a Salvo token.
Romodi can now discard.
Gunnery Chief Varnillian & Shriv Suurgav switched card backs fixed.
Fixed a bug with SSD defense token 6 Set token sub-menu.
Speed-0 (full implementation): Menu now has option to place and notch the man tool in r/l positions, as well as execute speed-0 maneuvers. Key combos subject to change in later versions.
Version 3.10.4
Victory token now spawn with the correct side up. Also changed reporting a bit.
Spawning an MC75 Ordnance from the quick menu now gives the correct ship card (not a stupid HH).
GA Thrawn added to quick menu.
Fixed the bug where spawning an Empire/Rebel officer from quick menu instead spawned KING Konstantine (I changed the name of the officer categories - this was not smart, since Vassal no longer could find the correct card to spawn).
Speed-0 turns (partial implementation): On the left/right-hand template sub-menus, there are now options to do speed-0 turns at yaw 1 or 2. You can read the hotkeys from the menu. The implementation is partial because you cannot pre-measure with the man tool (will be added later).
Added Blue and Black Gunnery Dice: Get them from the Pieces/Tokens menu or Varnillian card. Reports changes.
Version 3.10.3
Starhawk arcs fixed (front arc was too short).
SSD arc tweak.
Starhawk now spawns Command 4 stack (instead of 3).
Tractor Array now exhausts.
Palpatine can now spawn Salvo.
Onager can spawn Ignition Tokens from base.
Kyrsta can spawn all non-Scatter def tokens.
The Starhawk titles can spawn the correct def token each.
Added 'Gunnery die' functionality to Varnillian (spawn from upgrade card, or from Pieces/Tokens).
Several ship types have alternate color schemes (only available from the pieces menu).
Version 3.10.2
Added content from Rebellion in the Rim
Added spoiled content from wave 8 (Onager + Starhawk)
Added mockups of Onager & Starhawk ships
Stuff I did many months ago, that I've forgotten. Probably some very clever features.
Version 3.10.0
Added spoiled Wave 8 content
Ordnance Pods exhaust functionality added
Avenger exhaust functionality added
Extra lines in Liberty arc removed
Ambush Zone renamed to Ambush/VIP zone
Thrawn upgrade can spawn command dials
Emperor Palpatine commander can spawn Defense tokens
Executor upgrade can spawn command tokens
Report functionality for above-mentioned spawning
Report functionality for changing standalone command dials
Stand-alone command dials hotkeys changed to follow command stack conventions
De-texted objective cards (texted versions included in graphics pack)
Added Quickspawn for Wave 8 content
Version 3.9.1
Fixed Chart Officer spawning facedown
Fixed Arquitens spawning with 3 hull
Fixed Chaff Token Layer
Fixed Chaff Menu text
Ketsu no longer spawn aggressor
Range ruler piece can be copied
Range ruler piece can no longer be randomly rotated
Objective tokens spawn correctly off of obstacles
Victory tokens have range and distance bands
Changed sound file to fix "clear dice" sound lockup on Linux
Renamed Ambush Zone to Ambush/VIP Zone
Changed Turn change hotkeys to Ctrl+Shift+[ and Ctrl+Shift+]
Fixed Damage deck shuffle bug
Defense Tokens and Command stacks no longer refresh the start of turn 1
Suppressed individual command stack cycle messages on turn change
Suppressed individual damage deck messages on turn 1 shuffle
Moved Turn counter button to the left of the table button if docked (Must have table open for button to fire)
Hotkey Charts Updated
Moved Mirror match dots on some ships to avoid overlapping other information
Added Center marker to the regular setup zone (Salvage Run usage)
Added Fleet Command Card back image
Updated images for Errata'd cards for FAQ 4.1.2
Updated image scans on some upgrade cards
Alt-Map-Sizes-Pack Version 2.5.1
Added Larger grey space to 9x3 maps
Added setup buttons to the map pack extension to give setup zones for 3x3 6x4 8x4 and 9x3 maps
Added Another 9x3 Map "Dark Void
Version 3.9.0
Added Report functionality to most passive non-exhaust, non-discard upgrades
Added Report functionality to most active non-exhaust, non-discard upgrades
Added Report functionality to Ace squads
Added Exhaust functionality to Sovereign
Added Report for armed and unarmed station hull changes
Fixed TIE Panthoms....
Fixed Dodanna...
Fixed Quickspawn for the Grav Well and Grav Shift tokens
Added Report functionalty for squadron keywords
Cleaned up spawn locations
Added updated graphics for MC75
Added updated graphics for wave 7 cards
Added fixed Range Ruler
Added rotate feature to range ruler
Added Range bands to Objective tokens
Added Command stack 2 spawn from Relentless
Added Errata'd version of cards
Fixed Quad Turbolaser "Cannons"
Fixed Armed Station and Unarmed Station Hull values
Fixed Range bands on Armed station not being removed from remove tools button
Fixed Armed Station range bands comming up when the movement tool is deployed
Fixed Leading Shots not being flippable or triggering reports
Changed shading on ambush zone
Added Option to draw multiple cards from the damage deck at once
Fixed Armed Station Range Band
Added Raid Reference
Updated "help" dropdown
Damage Decks now Shuffle turn 1
Migrated refresh button into turn counter
Removed Restriction on Ctrl+ArrowKey rotation from turn 0 only
Name plates moved slightly down on all ships to allow better visibility of chaff
Added hull zone specific Chaff spawning to all ships
Added Shipside locations for Raid tokens and associated spawning for all ships
Added Reports for both Chaff and Raid token shipside spawning
Fixed Quickspawn for TIE Phantoms
Fixed Quickspawn for General Dodonna
Updated Hotkey References
Version 3.8.6
Added Bail Organa, Captain Brunson, General Draven, Instructor Goran, Strategic Adviser, Early Warning System, Heavy Ion Emplacements,Hardened Bulkheads, Ordnance Pods, Aspiration, and Sovereign
Governor Pryce and Bail Organa now have the ability to spawn the correct round tokens from their cards
You can spawn chaff tokens from either the pieces menu or from the Early Warning System card
Added Gar Saxon card and squad
Added Raid tokens. (still to do: add raid rules reference)
NOTE: You can spawn raid tokens from the pieces menu, or from the cards that use them (Jyn Erso, Gar Saxon, and the Gauntlet fighter cards)
Added the new wave 7 cards to the spawner-tokens' menus
Version 3.8.5
Added Taskmaster Grint, Seventh Fleet Star Destroyer, and Darth Vader (Boarding team)
Added Mandalorian Gauntlet Fighter card and squad
Added the new wave 7 cards to the spawner-tokens' menus
Fixed Quantum Storm title auto-spawn function spawning a GR-75
Added correct back graphic for all boarding teams (weapon + offensive)
Added second brace to Coran Horn on setup
Added Armed Station and Unarmed Station obstacles with hull values (spawn them from the pieces menu, or from objectives that use them)
Added range bands to Armed station
Version 3.8.4
Added more wave 7 spoiled cards
Added MC75 Prototype
Added spawn functionality to new wave 7 cards
Added left border to maps
Updated ship arcs to v4 and updated distance bands on tokens
Version 3.8.3
Added more wave 7 spoiled cards
Added spawn functionality to wave 7 cards
Version 3.8.2
Added wave 7 announcement article spoiled cards
Version 3.8.1
Fixed the Arquitens arc issue (CRITICAL FIX)
Added distance overlay for dust fields
Version 3.8.0
Full support for wave 6
Revised (slightly) arcs for wave 5 Arquitens and Pelta
New ship model graphics for the Pelta
Quickspawn updated with all new content
Some minor fixes like: TRCs can Exhaust (errata), you can no longer Exhaust and exhausted card etc.
To do: dust fields lack distance bands (it's a minor issue)
Version 3.7.0
Fixed some minor bugs, including CC veteran tokens (freestanding) refreshing automatically
Added support for squadron objective tokens (CC Hyperlane Raid)
Pelta (Phoenix Home title) can now take up to 4 command tokens
You can now spawn station cards directly from the relevant objectives
On start stack now includes both dust fields
Added some additional sound effects to the dice roller (plus the Report: SET button)
Version 3.6.0
Added Command 4 stack (for Nebula objective and custom content)
Added support for CC Scarred/Veteran tokens
Minor changes to squadron implementation (under the hood changes)
Version 3.5.3
Various minor updates, tweaks and fixes
Added Skilled Spacers, Diplomats and Spynet tokens for CC
Setup options for Hyperlane Raid/Blockade Run
Added Quick reference/Planet effect list for CC
"Graveyards" for uniques added for CC
Version 3.5.1
Some people were having problems viewing the CC map; this update should fix that
Better CC map scan
Stickers
Scarred/veteran tokens
Version 3.5.0
Added remaining cards from wave 5 and CC
Added CC map
Next build (3.6.0) will have full CC functionality
Version 3.4.0
Added spoiled content from Wave 5 (Arquitens expansion)
Dual Turbolaser Turret with better graphics added
Minister Tua, Reinforced Blast Doors
Arquitens ship cards added
Quick spawn tokens updated
Version 3.3.0
Added spoiled content from Wave 5 (Pelta expansion)
Sato with better graphics added
Ahsoka Tano & Major Derlin added
Fleet Command upgrades added
Pelta ship cards and title added
Quick spawn tokens updated
Version 3.2.0
Added spoiled objectives from Corellian Conflict
Added dust fields (obstacles); note that they as of yet lack distance bands
Added Unarmed Station (under new Unaffiliated category)
Added Morna Kee Squadron, Commander Sato and Dual Turbolaser upgrades (as of yet with bad graphics quality) from wave 5
Version 3.1.0
Added spoiled squadrons from Corellian Conflict
Version 3.0.0
Major graphics overhaul
Major upgrades to automation and playability
Includes all components up to and including wave 4
Cards from Corellian Conflict and Wave 5 previews
Mockups of the Arquitens-class and the Pelta-class from wave 5
Version 2.2.6
Corellian Conflict preview cards added
Version 2.2.5
Wave 3 & 4 added
New features added
Version 2.1.7
Version 2.1.5
Wave 2 added
New features added
Version 2.0.0
First major update
Wave 1 added
Version 1.0.0
Screen Shots
Players