Module:Star Wars Miniatures
From Vassal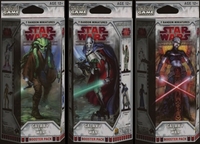 Files
Filename
Filetype
Size
Date
Compatibility
10.1
SWMinis.vmod
Module
41.78 MB
2011-08-21
unknown
Extensions
starshipbattles.vmdx
Starship Battles Extension
7.14 MB
unknown
unknown
Module Information
| | |
| --- | --- |
| Maintainer | unknown |
| Contributors | NickName, devin122, roguetrada |
Comments
Collectable Miniatures Game by Wizards of the Coast
You can also download the 10.0 MOD file here: HOLOCRON Downloads section If you have trouble with HOLOCRON try this mirror (good luck navigating through all the ads): MediaFire mirror
FAQ:
What the heck is the MOD file? How do I use it?
You need to do several things first.
Install Java on your system
Install the Vassal Engine
Download the VMOD file and open it in Vassal
See this thread at the SWMGamers site and this thread at Bloo Milk have all the details for carrying out those steps. You can also ask questions there if you have trouble.
Screen Shots
Players
Shawn
NickName
sixpackkwok
mrbean212
konartist66
jazzmang
marshal8
bkindt
cbradshaw007
loreienjacme
DarthSideous
greensaber36
DarthXanax
Zeb
Platypus
Vasilion54
explosivo
Ewok911
chervil
Llark
Crotalus
jessie
DarthIce
BGoodman
roguetrada
divinitybob
DarkDracul
blackpaladin
MysticGoat
Zoidberg
majesticfeet
Antwon
Knightshadow
Grazatron
JakeFoldor
william
Ykoahi
addertongue66
clone6298
Bremm
minbas
Martron
Debric
Hooligan
Smaug317
Gydracreator
kheferen
teajay33
darthcarn
Red5
Kyber
jazz
plonkoon
Ghostle
metallicafan32
Sukosus07
eviluno
Marajaded
chickenmcflip
1DarthHydro
SithKnight
Trooper1967
OscarGungan
theman
Espionage
Faibios
valgov3001
ironhide84
fringejedi
YodaMaul
pauljh
Berix
1337luke
nlx3647
starwax137
lorgan
Ackbar
LBee
ZodoJats
KorbainThor
Shugyosha
Boushh
blog
EazyG
SpawnoftheSith
quigon
paspas
wrrlykam
Scourgeofthenewrepublic1
Mikl
TheYostWithTheMost
blog
ilikeyoda
KansasBoyd
timberwolfprime
Vallum
Daelthus
shulew
riggah19
vampiremcnugget
daveted
IMSKU
PvtChurch
Ask0101
Ancelica
PredatorKostas
jcmnwest
MRGr33n
jimmy21
Foxer
treescooterz
Incom1138
Killaamoungus
DarthStratus
DarthLinux
nolanadams
darthdozerfett
jeremyhatesyou
BobaFettBountyHunter
LordAzaes
davidpinto1979
beowolfmn
Orzunoid
Blackstrong
Andereg
sgrdave
swjm
dnemiller
cstarks
matthewvosthemaster
jhilahd
MasteroftheForce61
JustLikeJedi
bobathehunter
GrandAdmiral
sixfootoneder
walmir
natural20
Gromuk
TK1421
Janru
PhillipJohns
bobojo10
Starhammer
0cremebrule0
Visitor
DarthB
EBMoreau
tjkehl
DarthMavoc
Azagthoth
Sanjuro
Saber
Toyhunter80s
kjb272
Tel
Foxw
DarthMalignant
JKnightD
Mustafa
LoboStele
Peruvianboy17
Sivok
Skeeve3000
murtle
taellik123
chiech
NoShoes
inovero
Jedi1972
leopoldo77
Roulex
Lhikan
RoqueSaber
tvknight415
emma2007
Boba52
DarthNefarius
SteveSpikes
Kurio
ukdane
Skywalker2B
Samp
groll001
Ambrose
tribedown
achiriaco
ZakarMelik
Adelaide
GrandAdmiral
Partof1
rbconn
Sith
dojimaster
Gurneywars
wforce33
Ancelica
DarthHunter
chewbrocoli
Turi
Zuty
buggy01
Fringe
Daman41
AdmiralDzzle
Incom1138
jursiss
mihaeljohnson
Maked1
RoqueSaber
kingsmith
qvos
Deadzone
BountyHunterH
AlanAku
Exodus5
Muffinmafia
cookluke5150
MandaloreDaBeast
Traxlenak
gold34
redmick
caddyshack99
felix
Mitthrawnuruodo
noahstepro
SquelchDog
GeneralK7791
connorgarrett9
drturo
iloveasnowboard
reddsledd
Shackleford
VanHellfury
darthcoulson
DarthNefarius
devin122
Normanno
LordRevan
Kenkos11
metalpnx
nisimmo
Zeddicus