Module:Stonewall in the Valley
From Vassal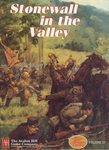 Files
Module Information
| | |
| --- | --- |
| Maintainer | Alberto121212 |
| Contributors | kwcoombs, toshikazu, rfdoane, Jeff Coyle |
Comments
Version 1.2
The scenarios are included within the module file. There are no separate scenario files to download.
If you would like to receive e-mails when updates are made to GCACW modules, simply add your name to the Players section.
Version 3.00
This new version include All-in-one units design and maps with the road more clear. IF you see some bug in the setup or when you use the module, please advice me and fix it. Read the User's Manual for reference.
3.5.a > New Scenario Piedmon include.
3.5.b > Entrench'64 available for The Skirmisher Scenarios dated in 1864.
Version 3.06
This new version include cleaned up maps with greater contrast and less noise.
Version 3.07
This new version includes
Tyler now recovers fatigue
Corrected setup issues of Scenario 4
Fixed hex grid numbering
Fixed mouse-over function
Added Notes function
Added Inventory function
Added optional ability to track movement trails of units
Made flanks refused markers easier to see
Fixed typos
Screen Shots
Players
aqui
gascon
kwcoombs
ktodd
tippecanoe8
Alberto
jrice
cicerosulla
jarnold
JAMug
jrmerson
motoi
Almart
tanneraz
toshikazu
ALoyolaCC
patton1138
DerDiplomat
Rowan
Brad
usapatriot1963
Toadkillerdog
Burkhalter
Ulv Miller
firefly
Firward
jwels
spetras73
BobJ
DRZ
Rondor
rfdoane
REW
SgtStinky
tater
pzlehr
hellfirepass
Cherper
genreynolds
beast013
vmi1983
aqui
ges
wargamer1963
Giorgio
IrishBouzouki
Ragnar
CATenWolde
Darksan
sidi45
Defilade
maple55
tswann
BugDany
JokerRulez
CMV233
BigDave
daxelos
RobTys
Ricky Gray
TBeach
mdacres
zhodani
ejwolski
hellonwheels
vidbot
Thrassh
wadereckman
UFPete
Moruya23