Module:Struggle of Empires
From Vassal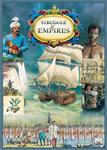 Module and Files information
Comments
Deluxe Version
The deluxe version includes all help documentation inside the module itself. Click the white question mark button on the right side of the toolbar to access this help documentation.
There is also a video available which demonstrates the automated functions of the module: [1]
If you have questions or find bugs, message "Bridger" on boardgamegeek.com

Original (2004) version
Now Available: Version 1.3 of Martin Wallace's outstanding game of 18th-Century European and World Conflicts. The new version adds complete reporting of movement and actions by the players with information on which player is which power.
Version 1.3 includes a "Set Up" button which sends drawn Country Tiles to their respective areas as well as a fairly detailed ReadMe file that explains how to set up a live, multi-player game.
Screenshots
Players
theaney
aqui
i7dealer
iguana
fabpat
azegzao
eskravitz
Malloc
Darcy Burgess
ScottK
MedievalBanquet
duron600
duron600
ckroegel
jll1024
gamingguy
cparrott
Davout
GeneralTrelane
ges
Krom
Krom
goldenboat
yangtze
duron600
stinger
chiron
mrgreen77
tassonik
Jann
Angel40k
XSiberia
darthxaos
Lollok
FirestoneIV
Vince
punkzter
KevinRohrer
Salamon
desiderata
Preacher
arakis
Zarktor
Slovenehero
Vanier
elister
yosi
michaelwest777
radioman
yankeeap
fsiefken