Module:The Great War
From Vassal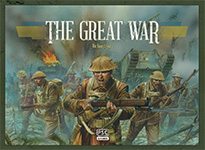 Files
Version 3.x is not compatible with version 2.0. Version 2.0 is not compatible with version 1.0.
Module Information
| | |
| --- | --- |
| Maintainer | bdgza |
| Contributors | bdgza |
Comments
Version 3.2
Increased minimum compatible VASSAL version to 3.4.13.
Fixes custom Java code to remove deprecations.
Removes warning dialogs on launch about obsolete code in newer VASSAL versions.

Version 3.1
Fixed a scenario setup mistake in scenario 54
Added a variant tank unit: Renault FT-17
Updated the tank unit chart with Whippet errata

Version 3.0
Added the French Army expansion components and scenarios
All scenarios updated and special personnel count added
Replaced the command and combat cards with the new larger cards from the Centenary edition
Changed the unit images and changed how special personnel is selected
Added +1 HQ button to the hand windows
Changed the toolbar button icons for the 2nd player team hand windows
Updated the charts
Updated and fixed the scenario notes window
Changed board layout and include special personnel count
Added a custom scenario banner
NOTE: as before, it's possible to increase/decrease counters with UP/DOWN arrow keys

Version 2.0
r2: Added scenario #18
Completely rebuild
Added the Tank expansion components and scenarios
Fixed the British medal spots, and moved the spots left a little
Reduced the size of the cards, and moved the decks left
Reduced the size of the decks panel
Added draw card and random discard buttons to the hand windows
Bolder and larger labels
Bolder and larger scenario title label
Added 2 more hand windows so it can be played with 2 teams of 2
Moving a unit to a medal spot reduces all its figures automatically
Added right-click menu item to remove special figure unit
The board can be switched between countryside and war torn
Added a tank expansion banner for Tank expansion scenarios
Added new combined summary charts for units and terrain
Terrain tiles have been updated
Moved tiles and units to a floating window
Renamed the module from "The Great War" to "C&C The Great War" because it conflicted with another game module
Added a double-width medal bar so there are medal spots up to 18

Setup
You can click the NO MAN'S LAND markers in the left column to toggle them.
To change the numbers click to select, then use the keyboard arrow keys to adjust.
Shift-click Figs Lost and right-click to adjust.
Shift-click medal spots and right-click Change (CTRL C) to change the number of victory medal spots.
Click a nation label and right-click Change (CTRL C) to change the nation.
Use the End Turn button to change the starting player.

Play
Use the D6 x1 button for the No-Man's-Land shelling rolls.
Pieces > Markers contains medal tokens for victory objectives.
Pieces > Markers contains a targeting template. Drag this template on top of the target hex. Use Rotate (CTRL R) command if you are firing Axis reserve artillery. Use the right-click command on the template to fire 1-5 dice. Result is overlaid over the terrain.
Right-click on wire tiles to Flip (CTRL F) them to shell crater.
To adjust your HQ, click on the number value to select, then use the keyboard arrow keys to adjust. The HQ pool is automatically adjusted as well.
Screen Shots
Players
bdgza
oneway76
Pierre Miranda