Module:The Greatest Day: Sword, Juno, and Gold Beaches
From Vassal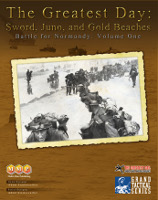 Files
Module Information
Comments
The Greatest Day: Sword, Juno, and Gold is the first volume in a three volume series covering the battle of Normandy in June of 1944. It not only introduces a new theater but also provides version 2.0 updates for the GTS rules. Assaults have been streamlined, the artillery rules have been improved, and various other changes have been made to make this version of GTS an even better gaming experience.
PLEASE NOTE Version 1.9.4 and above of the module cannot be run using Vassal versions earlier than 3.5.0. PLEASE NOTE Version 1.9.3 of the module cannot be run using Vassal versions earlier than 3.4.0.
Version 1.9.6 has additional scenario setup proofing.
All 18 setups have been rechecked. Some incorrect files have been redone from scratch.
Counter graphic for B/CHO unit of 3 Cdn Div fixed.
Counter graphic for 6/II/PzGr125 unit of 21 Pz Div's KG Luck fixed. It is now a 1-step unit to match the hard-copy countersheet; rear transport side was already correct at 1-step.

Version 1.9.5 fixes a bug in version 1.9.4.
Fix crash when opening Scenario Options.
Version 1.9.4 upgrades the module to be compatible with Vassal 3.6.
Vassal 3.5+ required.
Attack Wizard enhancements to allow use of Assault Rating for attacks.
Version 1.9.3 upgrades the module to be compatible with Vassal 3.4+ and fixes a number of bugs over earlier versions
Vassal 3.4+ required.
Fixed "12./III./SS-PG 25". One step unit behaved as two step unit.
Fixed "13./Gren 915". One step unit behaved as two step unit.
Added Clone (Alt-C) to all Counters in the Markers/General tray.
Modified OP and Strongpoint "floating" markers to have a Destroyed flip side. Useful after Rubble has been cleared.
Added a 'Task' description to MenAtWork counter, to be set via context menu commands to: IP, ENT, RG, Rubble, Road Block, Remove Mines, Wire Bridge, Tnk Rcvry, Ferry, RR Bridge.
"Div. Begleit (12ss)" and "Flak/Div. Begleit" removed from the 12SS division. These units are auto-command. They will not activate when the 12SS DivAct is drawn.
German Ind¨Pz 101 Attachmenent Marker did not activate units - Fixed
Fixed Delete command on units disabled but pressing CtrlX triggers report message abt it.
Fixed Null Pointer Error in Counter Detail Viewer.
Fixed bug in Attack Wizard causing crash and leaving Attack Wizard inoperable.
Fixed Attack Wizard bug using incorrect terrain modifier when attacking a stack of mixed armoured/unarmoured units.
Added Source and Target location to the Attack Wizard Display.
Artillery & Unit units no longer have range limited to 1 when under a Barrage marker.
Fixed bug where Attack Wizard could pick up additional nearby units not in the target hex.
Screen will recenter to target if opponent opens Attack Wizard if 'Recenter on opponents moves' preference is selected.
Fix bug where Attack With Artillery Park marker could pick up non-combat units as targets in the Attack Wizard.
Prevent crashes when using Artillery Park markers off-map.
Remove obsolete 'VASSAL Userguide' and 'VASSAL Quickstart' links in the Help menu.
GTS scenarios (Refreshed to v192 + added Chit Counter under cup).
PageDown key can be used to step through Attack Wizard attacks when replaying a log.
Fixed firepower color for HE direct attacks.
Version 1.8.9 fixes a number of bugs in the v1.8.6 module:
Replace 346 Division Artillery Units in Camaign 2 scenarios to fix Enter/Leave Artillery Park behaviour
Fixed spelling of Supressed to Suppressed.
Fixed C/Ins of Crt unit to be properly independent.
Fixed Scharfsch.Sch. unit to be properly independent.
Fixed 3./SS-PzArt 12 Contact/Pending marker to show correct unit.
Fixed incorrect -2 Defence Rating of A, B/13/18 KRH to -3.
Fixed Hex 51.018 to be Bocage, not Orchard. Fixed hex 22.012 to be Woods, not impassable.
Added Entrenchments to units in Radar Stations in Campaign Scenarios.
Fixed A,B,C/2 Middlesex and A,B,C/CHO counters to have 2 range.
Rebuilt Black Baron scenario to match v1.1 Scenario book.
Fixed incorrect LC, Support G counter in Campaign Scenarios.
Fixed Phone Units to be In Command regardless of Leader location.
Fixed Battalion ownership issues with 2 Devon units.
Fixed Command issue with Brig Wyman counter.
Fixed Issues with Attacking from Artillery Parks for 50th and 346/711 Divisions
Barrage markers now affect stats of units in Artillery Parks.
Can use Artillery Contact markers to attack with their associated Artillery.
Barrage Markers to show as Blocking terrain in Attack Wizard LOS.
Black Stripe Independents are automatically activated when in command range of a Leader whose Formation Activation chit is drawn.
Refreshed all scenario startup counters.
Change Hex 70.033 from Town to Village
Add missing Clear terrain to 2 Nemesis hexes
Add missing submenus and commands to Rearguard units
Fix 2 Can Arm Command issues - Rec/1st Hussars, Rec/ShWdFs
Remove incorrect -2 defence modifier for units In Column on Hill
Fix incorrect -2 defence modifier for attacking accross ridge against unarmored target to -1
Fix incorrect -3 defence modifier to -1 for Recce/5 RTR & Recce4/CLY
Fixed Beach terrain on overlays not being recognised by Attack Wizard
Fixed Bocage marker to show correct defence adjustment of -1
Update graphics for 12ss IN5 and Lehr IN6 scenario cards
Update versions of scenarios IN#1, AD#3, CA#1, CA#2
Made Michael Wittman counter a proper leader and fixed setup for Black Baron Scenario LE#1
Change hex 78.061 to not Hill
Version 1.8.6 fixes a number of bugs in the v1.8.5 module:
Fix reversed Sunken and Embankment terrain modifiers and mouseover display
Fix Armoured combat modifiers for City, Fortified and Hill hexes
Fix scenarios with side already taken
Fix Telephone cut marker on Wn33a
Rebuild Storming Gold scenario to fix counter selection issues
Fix Step marker on 6AB s3/s4 AL AT, RA counters to show 2 steps
Leaders in Landing Wave have no command range
Added Bridge Destroyed marker
Added Destroyed command to Bridge counters to show 'Destroyed' text
Fix Command checking for 48 Cdo units
Drift markers created by Attack Wizard now seen by both players
Air units and LCR's no longer affected by negative attack modifiers
Changed Company Bonus die button icon in Attack Wizard to d10
Hex 74.004 on Gold overlay changed from Beach to correct terrain of Clear
Opponent sees correct Indpendent attachment level when Leader adds attached unit
Add chat message when leader activates an independent
Screen Shots
Players
Brent Easton
Alessandro Demichelis
Chris Anthony
Dan Schulz
Daniel Tallarek
Mike Curtis
Norman Harman
Ryan Opel