Module:The Mighty Endeavor
From Vassal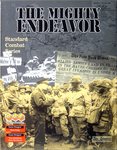 Files and Module Information
Comments
ver 1.05
1. Added Movement Trails to combat units; can turn on, turn off or clear trails individually or globally to all units
  You will need to use Tools/Refresh/Run to make this apply to your own saved games

2. Added +/- as hot keys for zooming map in or out

v 1.04 of TEM2 - Corrected the images for the Polish 1 Armor Corps, East Front
v 1.03 of TEM2 - Corrected Pol Armor, 19LW counters and some reinforcement entries.
v 1.02 of TME2 - Made "Center on Opponent's Move" a User Preference instead of always happening.
v 1.01 of TME2 - Added "Hide All Pieces" button.
v 3.2.8.1 - Adds June 6, 1944 campaign scenario. Requires Vassal v 3.2 or later.
v 1.7 - See Changelog.txt for a list of recent updates.
Screen Shots
Players
GJK
DerDiplomat
ktodd
robarrieta
Gyrene251
GuyRiessen
Chuck
sprydle
rhammond
motoi
JanWels
Kristian
EricTheRed
bpisarik
fgbelmon
Castaway99
borat
daxelos
Cherper
sidi45
JaySixA
leeforester
Bigdave57
Preacher
buffmeister
daxelos
daxelos
wargamerx
SloJim
daxelos
daxelos
feanor55
tippecanoe8