Module:The U.S. Civil War
From Vassal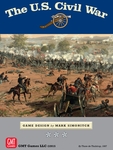 Files
Module Information
| | |
| --- | --- |
| Maintainer | Jeff Coyle |
| Contributors | |
Comments
Version 1.01 Changes
Fixed setup issues
Fixed issue with rotating NSPs
Added smaller Entrenchment counter
Added the ability to place entrenchment counter via right-click menu
Added reinforcement Leader counters to the turn track
Added the option to hide 'Moved' marker in User Preferences
Version 1.03 Changes
Fixed setup issues
Added Forts Window to track limited number of forts by side. New fort counters have been created. Does not impact previously saved games.
Version 1.04 Changes
Fixed issue with placing control marker from selected unit. Control marker will match the side placing it.
Added Window to track the number of cards in each player's hand
Version 1.05 Changes
Modified 1861 and 1863 Setups for May 2017 rule changes. Updated charts.
Version 1.06 Changes
Added ability to flip Cavalry Generals
Version 1.10 Changes
Updated the module for the Third Edition of the game. Revised charts and scenario setups, as well as a modified map.
Version 1.11 Changes
Minor corrections to third edition scenario setups.
Version 1.12 Changes
Added Naval Leaders to 1861 Advanced Scenario reinforcement chart.
Version 1.13 Changes
Corrected Fort Monroe SPs in 1861 scenarios
Version 1.14 Changes
Version 1.15 Changes
Corrected Confederate Draw Pile
Screen Shots
Players
Jeff Coyle
Joey Sabin
Ricky Gray
Grant Linneberg
Volker H
Ken Lee
Charles Klein
Alan Schmuck