Module:Title Bout
From Vassal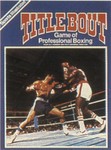 Files
Module Information
Comments
Designed by James Trunzo and Tom Trunzo .
Published by Avalon Hill in 1979.
Module Created by: Brian Mason
Contact me at brian4482@gmail.com

Version History
1.0 6/7/16 Initial offering
1.1 2/26/19 Updated module to reflect the 'Burn first 40 cards' rule during setup.
Note: To burn the first 40 cards of the Action Deck, do the following:
      1.  Draw 40 cards from the Action Deck using the Right-click Menu.
      2.  Place them on the board anywhere in their own Stack.
      3.  Right-click the stack and choose 'Send to Discard Deck' from the Menu.
      4.  Since the Action Deck has a random order, the first 40 cards will differ from game to game.

Screen Shots
Players