Module:Twilight Sparkle's Secret Shipfic Folder
From Vassal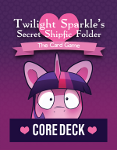 Files
Translated versions
Warning! This is a modified version. They are not compatible with the English version of game.
Beta versions
Module Information
| | |
| --- | --- |
| Maintainer | Tranquility, ThirdAnguis |
| Contributors | Erikun, Random, Grif, Descriptivist, Western01 |
Comments
Don't unzip the file! Just import it into Vassal and play! To import the Extra Credit expansion, right-click the TSSSF module in VASAL's startup window and click "Add Extension".
Contact the game's creators at http://tsssf-tcg.tumblr.com/ and discuss and plan games with other users at http://reddit.com/r/shipficmatchmaking/.
Question 1: How do you handle Changelings in the Vassal game (since they can turn into any pony of choice for one turn when played or activated)?
We just announce a Changeling's identity in chat whenever its power is activated. --Descriptivist (talk) 04:27, 21 July 2014 (UTC)
Question 2: Why aren't there more people signed to play this? ;D
I've met more than half a dozen people on /r/shipficmatchmaking, if you ever want to go there and make a post to ask if anybody wants to plan a game! We've also made a Skype group—if you want to join, try posting in that thread or adding those of us who've posted our Skype names in the thread as contacts. --Descriptivist (talk) 04:27, 21 July 2014 (UTC)
Screen Shots
None
Players
Tranquility
Shunka Warakin
Chaos Beat
Ran Constantine [Skype= Timonaholic]
Descriptivist