Module:Urban Operations
From Vassal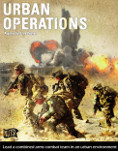 Files
Module Information
| | |
| --- | --- |
| Maintainer | Mc Kain |
| Contributors | |
Comments
Discover brand new game mechanisms for tactical Modern Warfare! Urban Operations uses blocks to simulate the Fog of War, and blocks rotation to show units hits. 3 campaigns (16 scenarios) including some famous fights:
Fulda - NATO vs Warsaw Pact (6 scenarios)
Mogadishu (6 scenarios)
Four Aces - elite units of 4 nations

US Marines in Fallujah (04)
French Foreign Legion at Kolwezi (78)
Russian Paratroopers in Groszny (99),
British Desert Rats in Bassrah (03)
Game system: simple but efficient
V1.03 : "hide all marquers of this map" changed in "hide all mvt marquers of this map" some bugs in scenarios fixed new activated/reaction/completed markers, allow the player to see the block under the marker.
V1.04 : bugs in movement trail, scenarios modified following update from Nuts. insurgent card added in Phantom Fury scenario
V1.05 : official scenario errata from Nuts publishing
V1.06 : internal module optimisation adding a "roof" action to the block, so it's not necessary to take a roof token (save time when playing) adding some other tokens to help in creating scenario
V1.07 : show active, reaction and complete state, even if masked
V1.08 : Short scenarios added, created by S de Peyret for teaching beginners, and also play quick games (some text updated on 16/03/21)
Screen Shots
Players