Module:WARLINE: Tactical Fantasy Battles
From Vassal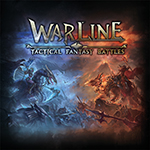 Files
Module Information
| | |
| --- | --- |
| Maintainer | Justin D Leingang |
| Contributors | Justin D Leingang |
This WARLINE module is officially licensed and developed by the tabletop game's publisher,
El Jay Play
.
Comments
"What is an implement of war is purely a matter of perspective. Even a blade of grass can turn the tide of battle."
WARLINE: Tactical Fantasy Battles is a sandbox game of detailed maneuver warfare. With nuanced systems and mechanisms modeled on fifteenth and sixteenth century martial practice, and a framework modeled on retired Air Force colonel John Boyd's "Theory of Maneuver Warfare", WARLINE gives you the tools and freedom that you need to craft and execute your very own unique and creative strategy.
Game Model
• Battalion level
• 1 zone (cell) represents 1/7th of a mile (the battlefield therefore extending across 1 square-mile)

Community Scenarios Community Scenarios link
Warline also supports play of community-created scenarios. The ever-growing official library of community scenarios—along with the free web apps for creating, sharing, and viewing community scenarios—can be found at the official hub (linked to directly above; at the page, click to expand the "Community Scenarios" section).
Screen Shots
Players