Module:WWII: Barbarossa to Berlin
From Vassal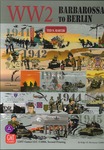 Files and Module Information
Filename
Filetype
Size
Date
Compatibility
Developer
Other Contributors
2.4
BtB_ver2.4.vmod
Module
7.22 MB
2017-05-05
3.2
Asyncritus
zhodani,Joel Toppen
2.3
BtB_ver2.3.vmod
Module
7.81 MB
2014-06-10
3.2
zhodani
Joel Toppen
2.2
BtB_ver2.2.vmod
Module
7.34 MB
2014-04-21
3.2
zhodani
Joel Toppen
2.1
BtB_ver2.1.vmod
Module
7.34 MB
2014-01-14
3.2
zhodani
Joel Toppen
2.01
BtB_ver2-01.vmod
Module
7.34 MB
xxxx-xx-xx
3.0+
Joel Toppen
Comments
With Permission from GMT ALSO AVAILABLE FROM GMT'S WEBSITE
Designer's Note: Pieces are not missing from the game. Right-click on cards to execute event. This will generate necessary pieces. Right-click on SW Front LCU creates replacement LCU. Enjoy! -Joel
Version 2.4
Fixed the Torch marker. It was using the graphic for a German trench.
Version 2.3
Added new Icon buttons to tool bar to make it a bit neater looking. Also added charts to module. The charts are posted on GMT's living rule page as well.
Version 2.2
Changes: German Panzer SCU's missing from Axis Force Pool. Minor correction to point to proper box.
Version 2.1
Changes: When Vassal Engine went to 3.2+ the movement trails stopped working in the mod, it was written in just not working. All I did was redo it and saved it under the new engine and it worked. Also I corrected a minor setup error for the Italian SCU Armor unit at Bir Hacheim (supposed to be setup reduced). Other than that Joel is the one who gets the major credit for this module. But if you do see something not correct let me know.
Screen Shots
Players
Alexander331bc
wargamerx
philmcd
PROPUGNATOR
Fatuo
andyinkuwait
rhammond
Bluekingzog
czmielon
Noman
MikeO
xrubio
daxelos
Athos
Vatsetis
rickbill
fgbelmon
Bigdave
zovs66
Don Lazov
Craig68x
Asyncritus