Module:War Galley
From Vassal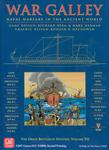 Files and Module Information
Comments
GMT's War Galley + Expansion
Version 3.0 [09/2013]: "Deluxe" version by S. R. Welch including new maps and additional C3I scenarios ("Ben Hur" C3I #11; "Cumae" and "Alalia" C3I #18). Includes all updates from earlier versions.
Version 2.4 [10/2012]: Added Command Range property to leader counters.
Version 2.3 [08/2012]: Game charts added by A. Nunziata.
Version 2.2 [07/2012]: Minor updates by S. R. Welch to improve module experience. Changes include removing restricted player access, adding mouse-over stack viewing, and modifying map zoom defaults.
Screen Shots
Players
freddel
nwright
Monte
RiverWanderer