Module:War of 1812
From Vassal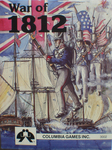 Files
Filename
Filetype
Size
Date
Compatibility
8.0
WarOf1812-v8.vmod
Module
1.04 MB
4/9/2009
3.1
Module Information
| | |
| --- | --- |
| Maintainer | shilinski |
| Contributors | |
Comments
Columbia Games: the War of 1812
For rules and more information, visit Columbia Games War of 1812.
When you run the module, pull down the help menu to see a 1812 players guide, which explains how to use the module.
I uploaded version 8 on 4/9/2009. This version incorporates the version 3 rules and labels. Note the picture below is of the older version.
Screen Shots
Players
shilinski
usapatriot1963
Burkhalter
motoi
TeTeT
Zalgiris
KevinRohrer
pacheta
mking
rmanns
raestuart
Salamon
vmi1983
Flamandier
rfdoane
yangtze
PeterRobbins
Vanier
yankeeap
Baxter
daxelos
charlescab
charlescab
charlescab
rickbill
tippecanoe8
Kevin Rohrer
Matt Looby
Bruno Passacantando