Module:Wir sind das Volk!
From Vassal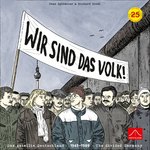 Files
Module Information
| | |
| --- | --- |
| Maintainer | Rhys Hopkins |
| Contributors | Tuomo Syvanpera, Benjamin Rostoker |
Comments
Most actions can be accessed by right clicking on pieces. There are invisible pieces already on the board for the factories and infrastructure so just right click on the spaces to access their action menus.
Version 1.4 now has a button that shows the number of cards in each player's hand.
Version 1.4.1 Fixes an image issue with card 10. In previous versions this showed the incorrect image.
Version 1.4.2 Updated starting board to reflect the 2.0 rule changes.
Screen Shots
Players