Module:Won by the Sword
From Vassal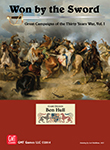 Files
Module Information
| | |
| --- | --- |
| Maintainer | Matthias Hardel |
| Contributors | Christian Diedler |
Comments
With permission by GMT
Won by the Sword, designed by Ben Hull, is the first of what was meant to be a series covering campaigns of the 30 Years War. The social media reaction on development and errata issues when this game first came out seems to have killed Ben Hull's desire to design games all together. This module is an attempt to give more players a chance to recognize Won by the Sword's brilliance. Ideally, this might spark a positive social media reaction, hopefully resulting in Ben Hull reconsidering his withdrawal.
Vers. 1.0.7: Some bugs corrected. Discard earlier versions. Don't forget to refresh counters when continuing a game started with an older version.
Vers. 1.0.9: Changed behavior of Column Windows: Masking to prepare garrisons is enabled, Actions are no longer reported. F1 marker can now be manually deleted.
Vers. 1.5.1: New cards from update kit published by GMT incorporated; mising Leaders added: Maximilian, Lamboy, Birkenfeld, Craatz (swe), Wilhelm; combat semi-automated; Scenario set-ups included.
Screen Shots
Players