VASSAL 3.7 Release Notes
From Vassal
This article will give you a quick tour of the new features in VASSAL 3.7, as well as listing some significant player-facing bug fixes.
Major New Features
Import/Export Items in Editor
Editor items (as well as entire hierarchies of them) can be exported to an XML files. This is particularly useful when you wish to then import them into other modules. For instance you could export all the prototypes from one module and import them into another (or just a specific folder of prototypes). It's not quite cut-and-paste across modules, but it's the next best thing!
When exporting a folder or component from a module, the selected item and all of its "children" will be exported.
When importing into a module, the items imported will be added as "children" of the currently selected item.
New Trait: Attachment
The new Attachment trait creates a lasting relationship between one or more pieces. Once a piece has an attachment to another, it has faster access to that piece: it can directly read and write that piece's dynamic properties, and it can send a Global Key Command to attached pieces much more quickly than normally possible.

The basic version of the Attachment trait automatically creates an attachment to any other piece(s) with the same attachment name. The advanced version (accessed by turning off "automatic" attachment) allows attachments to be explicitly added and dropped via key commands, and allows the use of expressions to filter which pieces become attached.
When a global key command is sent to "Current Attachments", only attached pieces will receive the command, and they will receive the command very quickly (compared to a normal Global Key Command where VASSAL must search through a long list of potential pieces)
The GetAttachmentProperty function can be used to read the value of an attachment's property. Pass the name of the attachment trait, the name of the property, and either the BasicName or the index of the attachment.
Additional functions have also been added to Sum, Count, and get the Max/Min of attachment property values.
New Trait: Set Attachment Property

The "Set Attachment Property" trait supplements the new Attachment trait by allowing the dynamic properties of an attached piece to be changed. This trait works much like the normal "setters" on a Dynamic Property or Set Global Property, and simply has additional fields to specify the attachment being accessed.

New Trait: Set Piece Property

The "Set Piece Property" trait allows a piece to change the Dynamic Properties of other pieces. This works similarly to the "Set Global Property" trait, but uses filters similar to those for a Global Key Command to determine which piece(s) have their properties set.

New Trait: Multi-Location Command
The "Multi-Location Command" allows a single trait to produce multiple "right click menu" options for different potential map locations, based on a filter you create which is checked when the piece gets right-clicked. The piece can then respond differently based on which of the different items was clicked. Whenever the player selects any of the menu items associated with a Multi-Location Command trait, the trait's single key command will be generated, and can be intercepted by other traits (e.g., Trigger Action, Send to Location). To identify which map location was associated with the menu item picked by the player, these other traits can use the properties LocationOfCommand, ZoneOfCommand, BoardOfCommand, and MapOfCommand. See below for an illustrative example.

Here we configure the trait -- we are going to produce a command for each region in Illinois, but using our filter to exclude Chicago using the LocationOfCommand special property.
Here is the menu that appears when the player right-clicks the piece. All of those menu items were generated by this same trait. Notice that Chicago was filtered out.
Here is how we configure a Report Action trait to respond to one of the menu items being clicked: it receives the same key command each time, but is able to use special properties such as LocationOfCommand and ZoneOfCommand to identify the specific location selected. Other traits could respond as well -- we're just using Report Action for illustrative purposes.
Here we see the final result displayed when the player selects one of the menu items (based on the Report Action trait we configured)
New Trait: Border Outline
The new Border Outline trait will put a solid outline around the shape of a piece. Width and color of the outline is configurable. Can optionally be shown only when a designated property is true or non-zero.
New Properties: StackPos, StackSize, OldDeckName
New properties are available to be referenced in pieces: StackPos exposes piece's current position in its stack, and StackSize exposes the total number of pieces in its stack. OldDeckName contains the name of any deck the piece was just moved from.
SumMat and CountMat
Beanshell expressions can now use SumMat to sum the value of a property across a Mat and all of its Cargo. CountMat can be used to count (again among a Mat and all of its Cargo), the number of pieces that have a non-blank value for a particular property. Both SumMat and CountMat can be accessed either from the Mat or from a Cargo piece.
Startup Global Key Commands can send Global Hotkeys
Startup Global Key Commands can be used to send a Global Hotkey rather than a Global Key Command, so they can directly activate toolbar buttons, deck commands, and other similar things that aren't pieces.

Area of Effect Improvements
The Area of Effect trait has received some attention, with the addition of an active property field, local/global visibility options, and separate on/off key commands.
Symbolic Dice Button Improvements
Symbolic Dice Buttons now feature full "action button" support: they can fire a key command or play a sound, as well as generating a report.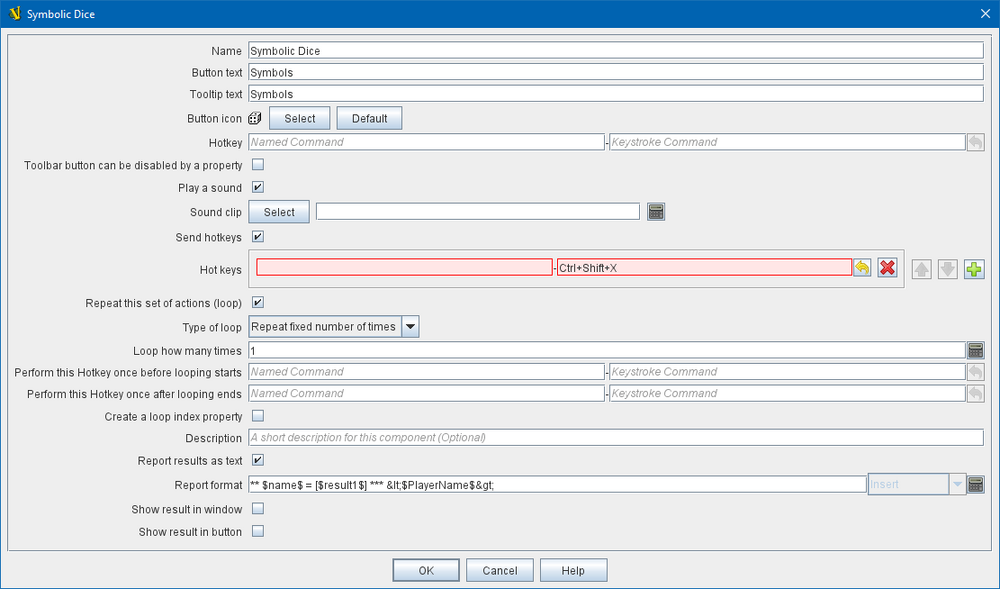 Eliminating Spurious Auto-Reports
Auto-reporting on a Map can be configured to ignore same-location movements (i.e., if a piece's LocationName and Mat stayed the same, to not generate a movement report).The default behavior remains the same.
Mark When Moved improvements
Similarly the Mark-When-Moved trait can be configured to only flag when a piece changes LocationName or Mat. The default behavior remains the same. ALSO, the Mark When Moved trait now includes key commands to directly set the Moved state to true or false, as opposed to only toggling.
Hiding Blank Prompts
When a property is configured to be set using the "Prompt" option, one longstanding issue has been when one of the items in the list of possible prompts is blank. In 3.7, a new Global Option has been added to allow the display of blank prompts to be suppressed.

Suppress Sounds Caused by Global Key Commands
Global Key Commands now offer the option to suppress sounds being generated by the key commands they send.
Non-Rectangular SVG Support
Non-Rectangular traits based on SVG files will use the path (rather than merely a bitmask), allowing more accurate and efficient outlines to be drawn in many cases. In particular, Non-Rectangular traits with a relatively clean/simple "path" around them will scale much more cleanly than a regular bitmap image.
Mouse-over Stack Viewers for Terrain
Mouse-over Stack Viewers can now be configured to show the underlying terrain from the map, in addition to any pieces there. This feature is similar to one long present in VASL through custom code, and is now available to all modules.
Mouse-over Stack Viewers: Configurable Outlines
Mouse-over Stack Viewers now feature additional configuration options relating to the thickness and color of outlines.
Inventory Window Count
The count_ prefix is now allowed for counting (as opposed to summing) properties. It can be used in place of the sum_ prefix and will count the number of pieces with a non-blank value for the property in question, instead of summing the value of the property.
DEL or Backspace Key Mapping
The DEL or Backspace key can now be mapped in key commands. Obviously we recommend it be used with care, but it can be an appropriate key for e.g. deleting markers.
Action Buttons now allowed on Maps, Hands, Private Windows
Action Buttons are now available on all windows where other similar buttons (e.g., GKC, Multi-Action, etc) are available.
3.7.0 Full Change Log (changes since 3.6.19)
New features
12566: Add Beanshell function to add Sleep/Delay processing
12536: GKC and Place/Replace parameters
12492: Add Comment trait
12454: BeanShell Editor improvements: larger, multi-line, more properties
12445: Add Ranged Sum/Count Functions; updated Function Builder and documentation; updated Property documentation
12444: Implement real Unique Piece Id property UniqueID that does not change during refresh
12323: Add Beanshell Range functions
12284: Add Danish localization
12251: New Set Piece Property trait
12243: Startup Global Key Commands can also send a Global Hotkey
12222: Multi-Location Commands: One trait may create actions corresponding to several map locations
12192: New Attachment trait
12184: Pivot can have two key commands/angles
12153: Layer traits allow a show-only-if-this-property-true filter
12149: BorderOutline trait now accepts two fields
12129: PlaceMarker and ReplaceWithOther can use expression for X/Y offset
12100: Text Labels support <img> tags
12067: Import/export of groups of items from Editor as XML files (e.g., to transfer between modules)
12060: Editor allows Deck files to be imported into a deck to become permanent part of module
12035: Mouse-over Stack Viewers allow configuring thickness of outer border, and more padding/stretching options
12032: Mark-When-Moved trait can be configured to only flag when piece changes LocationName or Mat. Similarly Map auto-report can be configured to ignore same-location movements.
12003: OldDeckName now supported as a piece property
12001: count_ supported for counting properties in Inventory windows
11969: New Border Outline trait
11964: Mouse-over Stack Viewers can display an image of underlying terrain
11937: SumMat and CountMat functions for Beanshell expression
11932: Support for setting Scenario Options
11918: Startup GKC that fires when player joins or changes sides
11917: Create Non-Rectangular mask directly from SVG outline
11530: Add new StackPos and StackSize properties to Basic Piece
11523: Area of Effect improvements: Active property, local/global visibility, separate on/off Key Commands
11178: Global Option added to omit empty lines in property setting prompts
11100: Allow begin-logfile and end-logfile to have configurable hotkeys in Global Options
10822: Sounds can be suppressed during GKC processing
10821: Symbolic Dice buttons how have full Action Button capabilities (sounds, hotkeys, etc.)
10820: Make Action Button available on all windows where other similar buttons (e.g., GKC, Multi-Action, etc) are available
4454: Save chat text to file
4446: Dynamic button labels (can use expressions and $...$ in certain toolbar buttons)
Bug fixes
12644: Prevent NPE when Editing Deck count expressions
12627: Fix chat non-scrolling caused by setting preferred size for the Chatter contents pane
12620: Ensure that HTML attribute values are quoted
12595: Fix Search UnsupportedOperationException
12578: Process Set Piece Property expressions correctly
12568: Center of map view during zoom used incorrect coordinate space
12561: Handle Beanshell functions correctly in expressions
12547: CountLocation function with 3 parameters does not work
12529: Allow Piece UIDs to be compared properly in expressions
12528: Close InputStreams opened for reading SVG
12482: Map Shader now able to add button to Map Toolbar
12470: Place Marker X Offset should default to 0, not null
12439: Uniformly handle addition of standard and imported Configurables
12434: FastMatch by Location now respects Deck limits
12433: Attachment Fastmatch: match each piece at most once, limit checking by name
12420: Set Piece Property does not work
12403: Extension Editing fixes: Cut & Paste now deletes cut element, Drag & Drop between folders in Extension are saved, stopped UnsupportedOperationException during search
12401: Allow Ctrl-V to be entered as a Key Command
12396: Add missing Global Option message
12393: Fix Auto-attach breaking on Undo
12392: Replace With Other incorrectly retains existing Marker values when Match Current State is checked
12382: Prevent NPE in Beanshell execution during module initialisation
12363: Initialise Global Option preferences that have no Tab name
12347: Refresh Dynamic Properties correctly when they have no value
12342: Fixed bad link in Reference Manual
12340: Fix inaccurate Hex Grid location reports
12322: Scale summed board locations instead of summing scaled board locations to reduce rounding error
12315: Prevent NPE in MouseOverStackViewer trying to show top piece of empty stack
12303: Dynamic button text was resolved too soon
12302: Description field now properly appears with Startup GKC set to send Global Hotkey
12261: Report error if more than one grid added to a Zone
12220: Add BorderOutline's property names to the searchable target list
12215: New MarkMoved commands shouldn't default to being displayed if no key commands entered
12205: Area of Effect trait was eating other traits' visibility info in some cases
12203: Properly extract outlines from SVG for NonRectangular
12175: Fix stretchy images in chat
12159: Correctly handle install paths containing spaces in VASSAL.sh
12158: List Key Commands tool can be re-opened after closing with X button
12152: Work around Java bug which prevents displaying Windows file dialog
11913: Numeric global properties with increments other than 1 and -1 now wrap around correctly
Other improvements
12626: Hide caret in chat pane
12573: Updated bundled Java to 20.0.2
12556: Map Shaders on different maps can now have same name
12549: Simplify Trait edit window title
12538: Scenario Options - Allow Observers to Lock option tabs if no Sides taken
12509: Allow and empty Deck or At-start Stack to be repositioned
12504: Updated documentation for 3.7
12501: Merge Set Attachment property into Set Piece Property
12495: Mouse-over Stack Viewer 'Show move limited pieces' option no longer dependent on 'Show non-stacking' option
12443: Clarified MouseOverViewer documentation
12432: Add missing Sum & Count expressions
12427: Fixed bad links in Reference Manual
12362: Rollover component help button goes to MouseOver.html instead of Map.html
12341: Expression documentation improvements
12287: Enable text field DnD
12279: Default heap raised to 1024MB
12270: Scenario Options tweaks
12267: Optimize Ranged GKC's and remaining Location based fastmatch option
12235: HTML Help file starting page can now be an expression
12187: Improved Rectangular Grid range metric names and made them translatable
12177: Change-property buttons don't generate completely empty chat lines
12176: Add preference to not display Mark Moved status of pieces
12172: Metadata now contains the 'extra' fields, and Module Manager displays them if numeric
12138: Better editor descriptions of Global Hotkey traits
12137: Editor shows better descriptions for Dynamic Property and Set Global Property traits
12136: Change Property Buttons now have a description field, which is displayed in the editor if filled in
12133: Rollovers automatically shrink scale if the pieces are too wide to fit the screen width
12084: Help menu shows module-specific help items before generic Vassal ones
12080: Zooming in and out no longer loses track of player's preferred center point for map
11919: Allow DEL/BACKSPACE to be mapped as a hotkey
11506: Predefined Setup "menus" with blank names will not be shown
11104: Refresh Can Rotate trait by Rotator Name match option for Game Refreshers
Changes in 3.7.1
Bug fixes
12727: Ensure that tiles are cobbled for fixed-size board scaling
12708: Prevent ArrayIndexOutOfBoundsException if side translation count does not match module
12688: Replace with Other should not update text of unchangeable labels
12683: Prevent NPE on starting game in Main Room
12679: Set Piece Property respects target property numeric constraints unless overridden
12676: IncrementProperty: Corrected bad wrap-around calculation when increment is negative
12659: Translate current side before checking for "next side"
12645: Respect localization when filtering sides
12582: Corrected divide-by-zero problem for Zones defined by zero-point polygons
12542: Mitigate race condition when selecting player sides
12474: Fixed NPE when moving EditablePiece which isn't on a map
12411: Fixed NPE when updating ConfigureTree
12324: Fixed ClassCastException caused by reordering columns in Delayed Notes table
12307: Prevent NPE when Return to Deck of a deleted Deck
Other improvements
12716: Support regular expressions in Editor search
12715: Enable help button for editor Search dialog
12706: Keep the "retire" button disabled unless a game is running
12696: Removed "Indexing pieces" message
12670: Prevent essential components being accidentally deleted
12661: Translate side names in change sides message
Changes in 3.7.2
Bug fixes
12784: Fix rendering of external Text Label images
12781: Fix bad translation keys for Attachment, Deselect, Send To Location traits
12780: Correctly adjust Player window title to reflect actions taken in Welcome Wizard
12769: Fix support for expressions in Sound Clip Configurer
12729: Set Global Property to again record old GP value in oldValues for reporting
12773: Disabled Toolbar Button icons should not appear in unused images list
12770: Prevent NPE when escaping from GKC trait after adding 'Set Dynamic Properties' entries
Other improvements
12896: Build universal Mac bundle
Changes in 3.7.3
Bug fixes
12817: Fix alphanumeric key behavior in hotkey (key command) configurer in Editor (e.g., Shift+B should show up as "Shift+B", not "B")
12810: VASSAL.sh exits before printing relevant exit message
12705: Prevent creation of duplicate Translations by Add Translation button
Other improvements
12814: Updated bundled Java to 21
12808: Horizontal scrolling now supports 2-finger-trackpad and mice with additional horizontal wheels
12724: Improved legibility of translation panels
Changes in 3.7.4
Bug fixes
12830: Prevent Load Continuation from auto-forwarding to end of log
12826: Fix bug where pieces sometimes teleport from deck back to different map in multiplayer (Ensure map recorded in pieces matches map in parent Stack/Deck)
12824: Ensure ColorManager and FontManager are created exactly once, before use
12802: Prevent NPE in Named KeyStroke Configurer
Other improvements
12829: Set Piece Property Documentation clarification
12825: Allow Unique components to be copied; change Game Piece Layers to be non-mandatory
Changes in 3.7.5
Bug fixes
12866: Fix double application of board magnification to board bounds
12852: Prevent SumZone from generating Bad Data Errors
12846: Fix missing custom colors and font styles in Game Piece Layouts
12841: Ensure labels are correctly updated in Replace With Other trait
Other improvements
12865: Documentation: Editor Search section - add a cross-link to main search details
12861: Number in-use traits in Piece Definer