Category:Battle Command Series
From Vassal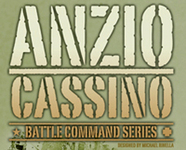 Battle Command Series are quick playing games with large 7/8" counters, a double sided map board, rules, and dice. Each battle has 4 pages of rules. Units are rated for their strength and movement, as well an endurance rating that reflect how much damage a unit can sustain in combat. Each battle includes 2 scenario's, one for the complete campaign, and one for a shorter scenario.
Games are playable in 1 to 2 hours.
Pages in category "Battle Command Series"
The following 2 pages are in this category, out of 2 total.