Module:1914: Serbien Muss Sterbien
From Vassal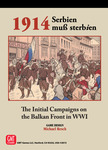 Files
Module Information
| | |
| --- | --- |
| Maintainer | Peter Dietrich |
| Contributors | |
Comments
Published with approval of GMT Games and Michael Resch
ver.1.01: CRT and TEC deleted. Some Serbian Counters and Markers corrected and added.
ver.1.04: Added Victory Point Counters on TurnTrack. Added Supply Status to Asset Units.
ver.1.05: Added missing Serbian Brigade. Added Userdefined SetUp. Thanks to Igor Radić for that.
ver.1.07: Corrected Counter- and CampaignSetUp-Errors. Added missing Units and Markers. Thanks to Stéphan Tasky for showing this up and checking.
ver.1.08: Minor Counter-Corrections. Campaign-SetUp and Introductory-SetUp actualized. Thanks to John O'Day.
Do not edit the mod with a version greater than 3.2.17. It will break the mod.
Screen Shots
Players