Module:2024-An Olympic Undertaking
From Vassal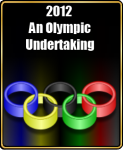 Files
Module Information
| | |
| --- | --- |
| Maintainer | Chad Mestdagh |
| Contributors | Chad Mestdagh |
Comments
THE RULES ARE IN THE MODULE!

A game designed for the 2012 Solitaire Print and Play contest.
The year is 2014, and you've been hired to get the construction projects for the 2024 Olympics back on track. The previous supervisor randomly approved project sites without building anything, ran off with most of the money, and has left the city unhappy. Can you successfully get the Olympics buildings built on time, and turn a profit on the investment?
Players start with an unimproved city on a 20 x 20 grid, and must plan for the construction of 6 Olympic Complexes, housing for the athletes, hotels for the fans, all while trying to improve the mood of the city.
The player must evaluate locations based upon the price of the property, the proximity to other locations, and in reaction to 10 random event cards. Some events describe extra unforeseen costs, while others provide revenue generating opportunities.
Generating revenue is very important, since the player will acquire a significant debt from the purchase of the properties and costs of construction. At the end of the game, the player will perform calculations to see how efficient their city became, hopefully earning more money than they spent.
Screen Shots