Module:A Call to Arms: Babylon 5 Space Combat
From Vassal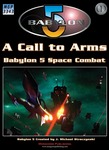 Files
Module Information
| | |
| --- | --- |
| Maintainer | jungleboie |
| Contributors | Geekybiker, JayRaider |
Comments
Conversion of Mongoose Publishing's Babylon 5 A Call to Arms. Basically serves as an electronic table top. This mod doesnt enforce rules, So you'll need the books if you want to play. Updated. Includes the 2nd Edition Vassal Mod. Hundreds of ships. Tons of new features. You'll need to buy Mongoose Publishings 2nd Edition ACTA rulebook. This mod doesnt enforce rules :) Note! If using the 2e_V1.3, if using both front and rear boresight beams simultanously, rotate counter slowly. If you don't, you will face severe slow down. :)
Okay... so you want to play ACTA via Vassal.
Couple things to remember. The mod doesnt enforce the rules. It just makes it possible to play online. If you like the game, buy the rules and support Mongoose.
Second, check the right click menus on ships. That's where you rotate them, and move them in a straight line. Dragging I cant constrain to a straight line. Up top there is a point to point ruler. It rounds up. Thats about it for now.
1.36 Ver.
changed some elements of the core mod-
  Movement now reports.
  ship status now a token on the ship so to remove some counter clutter.
  Changing the ship property sheets. you can track trait loss on ships and such.

updates to ships to match Powers book and new Prop Sheet.*
abbai, Bakirri, Ancents, Drazi, Centari, Vree, Gaim, Membari are done at this time.
Screen Shots
Players
Geekybiker
pestilence
mrwigglesworth
bannon
Gromuk
CaptainDarling
arbaily
Skratch
inq101
yankeeap
daxelos
jungleboie
DMarcus7