Module:A Gleam of Bayonets: The Battle of Antietam
From Vassal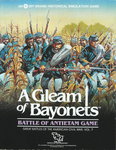 Module Information
| | |
| --- | --- |
| Maintainer | Stiglr |
| Contributors | jason |
Comments
1.6j: Added a number of missing units from the Full Battle setup. Corrected two CSA regiments placed on the map in RTD state.
1.5j: A unit in Meagher's brigade (69th NY) had the wrong art assigned. A Casualties display was added, and right-click commands on the combat units and leaders to send the pieces to the Casualites display (in addition to a Delete function).
1.11-j5: A missing artillery battery (Simpson) was created and added to Meade's Division in the Attack of I Corps, Hooker and Mansfield, and Grand Battle Scenario setups. Also, a Union Independent marker was added to the CSA Ind and Detached marker. It functions as a toggle.
1.11: This module represents an attempt to make this game much easier on the players. To that end, an attempt has been made to computerize the laborious tracking of Objective Hexes, Casualty Rosters, and also ease the administration of VP tabulation, Union Commitment and the McClellan Chits.
With one button push in the Map menu, you can toggle on or off the overlay of the Objective hexes. When the Objective hexes are visible, they can be modified to record control by either player, and this will figure into the calculation of Union morale (also a one-button-push operation).
This was not easy to achieve, and needs testing to prove the accuracy of these results. Please do not hesitate to contact the Maintainer and the listed Contributor (the latter of which has mostly crafted the code needed to make these features go).
Screen Shots
Players