Module:A Most Fearful Sacrifice: The Three Days of Gettysburg
From Vassal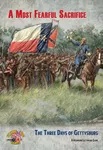 Files and Module Information
Change Log
6/22/2022 - Initial Module upload.
6/23/2022 - version 1a - Some have had issues with being able to view the Solitaire mode. This should fix that problem.Also fixed issue with Confederate Evant cards not getting "Face Down" Command.
7/6/2022 - version 1b - Some have request "Delete" capability for the Map borders. This version will allow that. Hold the SHIFT key while selecting the border and there is a menu to move it or delete it.
7/22/2022 - Version 1.1 - Added text to Card draw Pile for Discard deck, Fog of War Cards, and Friction of War Cards.
Comments
There is a "How To Use" video in the module Help Menu. Included as pre-defined setups are the first 6 scenarios. Some charts are included, but not all. These steps were taken to insure ownership of a physical copy. I hope you enjoy the module.
Screen Shots
Players
Greg Amos
Paul-E
AZTiger98