Module:A la guerre...
From Vassal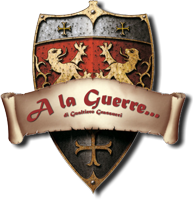 Files and Module Information
Filename
Filetype
Size
Date
Compatibility
Developer
Other Contributors
1.0
AlGesa-FSW-0100.vmod
module
114.45 MB
2023-10-21
3.6.19
Gualtiero Grassucci
Emanuele De Angelis, Alessio De Cesare, Stefano Manauzzi, Luca Pontesilli
Change Log
Comments
A la Guerre... esa was designed in the scientific high school G.B. Grassi. The game is currently in Italian, we are making the English version. Follow development progress here: A la Guerre... esa With A la Guerre... you can play eight famous battles of the Franco-Spanish War (and eleven other clashes) but also build your battlefield and deploy your armies.
Screen Shots
Players