Module:Across Suez
From Vassal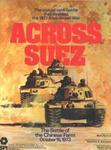 Files
Module Information
| | |
| --- | --- |
| Maintainer | NONE |
| Contributors | fermendzin,John Edwards [jzedward],Davejm |
Comments
V1.3 is a minor update mostly to correct a unit in the wrong hex at the start of the game.
V1.2 is updated to 3.6.7. The Attack Markers are now on a right click dropdown menu. Movement trail displays one unit at a time when left clicked any time up to all moves being cleared. Works for the recipient when PBEM.
Thanks to fermendzin for the module page creation and first module release. jzedward has added an alternative module for players' amusement. This is a small and fast paced simulation of the battles across the Suez canal in the 1973 Arab-Israeli war from SPI.
Screen Shots
Players
fermendzin
usapatriot1963
fenris
andy1bad
anomaly99
dmsheppard1949
RedFalcon
John Edwards [jzedward]