Module:Aether Captains
From Vassal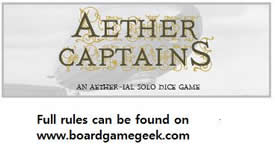 Files
Module Information
| | |
| --- | --- |
| Maintainer | Chad Mestdagh |
| Contributors | Chad Mestdagh |
Comments
"As commander of the the HMS Dauntless, you have been tasked by the Emperor to find and destroy merciless air pirates threatening the skies of the world. With your staunch crew of steam welders, gunners, pilots, and engineers you fly with honor into battle"
Aether Captains is a solo, steampunk themed, dice game. You take on the role of a commander of a worthy, air-going, zeppelin, battling a wave of attacking air pirates.
Your zeppelin consists of 6 dice positioned in a row making up various sections of the ship: gun emplacements, command deck and the engine. The dice rotate down or up in die faces as you take on damage or try to repair the ship. Damage can mean loss of maneuverability, as well as reduction in attack and defensive strength. 6 dice represent the air pirates, randomly rolled at the beginning of the game. The air pirates attack during the rounds and you must successfully defend against the attack and return fire, damaging and hopefully destroying them.One last die makes up your able-bodied crew, re-rolled at the end of each round and allows for bonus modifiers during the game.

The game can be found here: http://www.boardgamegeek.com/boardgame/86003/aether-captains

Also note that there is a error on the board. The bottom numerical order should be 12, 11, 10 ... and not 7, 8, 9, ...
Screen Shots
Players