Module:Against the Reich
From Vassal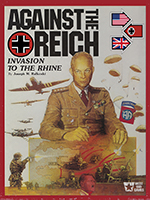 Files
Module Information
| | |
| --- | --- |
| Maintainer | Michael A |
| Contributors | |
Comments
BoardGameGeek Link Against the Reich Invasion to the Reich is a WWII historical simulation, where you take the role of either the Germans or the Allies on the western front, designed by a veteran designer and historian, Joseph M. Balkoski. The novel 'initiative' system means that you never know who is going to move a piece next, based on a variable player impulse and individual unit activation. Divisions or Corps move 1 at a time. Headquarters and supplies are linked. The Allied Player has a choice of where to invade. The German Player has the choice to build up a reserve for a massive counter offensive.
With both historical, and free set ups the German and Allied players can either follow in Eisenhower and/or Hitler's footsteps, or fight the battles using their own plans.
Module Version 1.4 Added a Tool Bar button to recover all fatigued units to ready and mark all moved units as not moved.
Module Version 1.2 Corrected Combat Value Modification Summary Chart: Mountain changed to 1/2 from 1
Module Version 1.1 Added chart: Amphibious Assault Reference Chart
Screen Shots
Players