Module:Air Force
From Vassal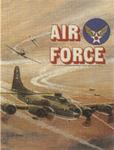 Files
Module Information
| | |
| --- | --- |
| Maintainer | E |
| Contributors | E |
| | |
| --- | --- |
| Maintainer | Stiglr |
| Contributors | E |
Comments
---
Air Force / Dauntless v1.00*
---
Updated: 13 Jan 2019
This is the Battleline version of the complete Air Force/Dauntless/Expansion Kit + AH General set. Almost all the data cards use the Battleline "bank statement" format, so they are actually **readable** now.
A few notes:
- New Aircraft Data Card added: A6M3 Zero. A major oversight, as the original games only included the A6M2 and A6M5 models.
- Corrected Air Force Data Card: Me-109E. This ADC indicates a nose-mounted cannon, which Emils did not have. I have removed the 3C from the center position, leaving the aircraft with the historical twin cowl MGs, and a low-velocity Oerlikon 20mm cannon in each wing.
- Some of the AH Data Cards were made from A/C that appear as variants on the original Battleline cards. These cards are not reflected separately, but you can, of course, find them on the original cards.
- New Australian and Polish aircraft were added from internet sources; these two nations have their own aircraft displays.
-There is a problem with the aircraft when they make half-loop maneuvers. Not only do they not "shift laterally" in the direction of their bank, their bank change is the same as if they had performed a half roll. This seems to be correct when looking at the notation diagram on the plot sheets, but ignores the fact that, after a half loop, the aircraft is "seen" from a front view, not the rear view that the notation diagram reflects. Because there are no separate "Left-Half Loop" or "Right-Half Loop" commands, both the offset and the bank of a half-looping plane have to be corrected "by hand". Just remember that, with a half loop, the "side" of the bank is simply inverted, or un-inverted, as the case may be.
- No new a/c counters were created for any of the added aircraft (e.g., Halifax, Hampden, Wirraway, Polish a/c). Simply use other aircraft from the set in their place.
- Despite the description for v.0.97 (upon which this version is based), when using the Log Sheets, you cannot simply click a field and type. You must hit Enter and then start typing.
---
Air Force / Dauntless v0.97*
Last update: 14 Apr 2007
(* All my initial releases start at v0.95 as an ode to Murphy's Law)
Warning: Large download (includes over 160 aircraft datacards)
---
Version 0.97 for Vassal 2.9.9 (& higher?)
---
1. Upgraded logsheets to "Click 'n Type"
  (versus old "select, hit ENTER, then type").

2. Very slight size savings on some tables' graphics.
---
Version 0.96 for Vassal 2.7 (& higher?)
---
- Added multiple logsheets.
- Added ability to masking/unmask logsheets from opponents.
- Added ability to clear first 19 lines of logsheet plotting at once.
- Added ability to cycle turns listed on sides of logsheets.
(the above two, essentially make the logsheets perpetual. Going past turn 20 should be a bit less of a hassle)
- Added multiple player sides.
---
Version 0.95
---
- Added symbolic dice
- Added Armstrong Whitworth Whitley ADC from The General
- Added (conspicuously!) missing Handley Page Halifax ADC from The General
- Renumbered 0.03 release to 0.95
---
Version 0.02
---
- Fixed missing player sides button icon (end run to the fix!)
---
Version 0.01
---
Initial Release
Screen Shots
Players
PierreM
E
DerDiplomat
PRodgers
Kubik
Badger
Unas
Lindy
sabreman1966
fernworthy
jrmerson
hackett
Razor
JonasK
P40Warhawk
Shako
daxelos
dbeaver
ChandlerB
koebi57
outlander000ITA
Stiglr