Module:Arkham Horror
From Vassal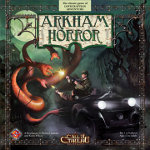 Files
Module Information
| | |
| --- | --- |
| Maintainer | Gherardo, Nicolas |
| Contributors | Winter, Azrael71, Steward, Armitage1982 |
Comments
A cooperative adventure game themed around H.P Lovecraft's Cthulhu Mythos for one to eight players.
As per FFG policy, all common item card texts are blank to ensure players own a copy.

French version (2013/31/09):
French version of every cards & Base Box texts localized while English Base Decks texts overriden due to collision bug.
Improved Boards design, icons and pawns
Larger Monsters cards due to smaller French fonts
Included French Help guide from Ursidey (inspired by StephMe)

New version (2013/05/07):
The Door to Saturn - Darkest Africa expedition Added
New version (2013/01/10):
The Door to Saturn expansion added.
Dreamlands Fanmade Expansion 2013-01-11 Compatiblity 3.2.2
Blight, Madness, Injury, Corruption prototypes and according deck spaces moved to core module
Kingsport, Dunwich, Innsmouth location deck spaces moved to core module
Lurker at the threshold Miskatonic reckoning cards fixed
Kingsport Rift tokens fixed
Base Allies cards fixed
By Steward
Version 1.7.1: a bug fixed + Curse Of the Dark Pharaoh Revised expansion + Mask Of Nyarlathotep expansion + Miskatonic Horror expansion
By Steward
Base:
Remove XXX cards buttons - moved to "Remove" sub-menu
Curse Of the Dark Pharaoh:
Revised menu support added
Version 1.6.9: several glitches fixed + Innsmouth expansion
Base:
Updated all the Info tab not to count the cards in box
Updated the remove buttons to include all extensions available
Lurker menu items added
Innsmouth:
Lurker At The Threshold:
Added places to other decks for relationship cards
Added special gates chart
Version 1.6.8: a bug fix release + 3 small expansions
Base:
Made Player 1 and Player 2 owner of even and odd Players, to allow for easier 2 Player game
Added all extension to the Setup menu, so that they fit in well
Added the "Take in Hand" command to directly send to the Players hand board (Take as Trophy for monsters)
Golden Scarab:
Corrected a few box (button remove all cards instead of remove scarab cards)
Put back the Pharaoh guardian in the Dark Pharaoh extension
Kingsport:
Mostly debugging, a few buttons and glitch corrected
Added 3 small Expansions:
Arkham Horror: Curse of the Dark Pharaoh
Arkham Horror: The Black Goat of the Woods
Arkham Horror: The King in Yellow
Version 1.6.7: a major release
By Nicolas
Many improvements, like separate Game Boxes, a newer menu and the Kingsport Horror expansion.
A few details that might need explaining:
You can set the number of player by right clicking on the text, the limits will adjust as per the standard game rules.
If you need to remove a Seal (Elder Sign) counter, please drag it offboard or the count will not change.
About the turn counter:
a) First set the active players in the menu before you start the game (right click > Configure > ... > Configure active player)

b) Then when you hit the Mythos phase, configure the first player in the same menu to the next player. This way, when you hit next, it will go back to Turn +1, Upkeep, First Player...

c) Last, only the Location decks are set to Auto Shuffle, for the other one, just shuffle manually before starting a game ... and any time you would in a normal game.
Version 1.0 Alternate
By Denny crane
Another version of an Arkham Horror module. I noticed that one had been posted recently, but I think this one works a lot better in some ways. As with the other module, the card text is blank for all items and spells, which will hopefully be acceptable.
Innsmouth expansion for alternate Arkham Horror module added
Screen Shots
Players
Pipuf
Gherardo
ABCoLD
Marc
theimann
gert74
maxcito973
shadow1331
aapeppin
Odysseus3
kewlfrogz
Washautumstar
Lavabeast
SpecterFan
Morpheus
williambertram