Module:Arriala: Canal de Garonne
From Vassal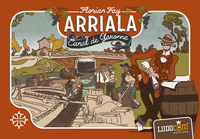 Files
Filename
Filetype
Size
Date
Compatibility
1.0
arriala.vmod
Module
2.67 MB
xxxx-xx-xx
3.0+
Module Information
| | |
| --- | --- |
| Maintainer | gaetbe |
| Contributors | gaetbe |
Comments
Under the rule of Louis XIV, Pierre-Paul Riquet was a senior quartermaster and a brilliant civil engineer. He initiated the construction of the Canal des Deux Mers, based on his idea for the design of a water supply system for the canal, using the area around the geological ridge known as the Montagne Noire.
At the time of his death, in 1680, his project remained uncompleted. The so-called Canal de Garonne and more specifically the section of the canal formerly known as the Garonne Lateral Canal was only finalised much later in the 19th century.
Play the game and get the opportunity to experience the construction step-by-step, from the towns of Grisolles to Valence d'Agen, in the heart of the Tarn-et-Garonne region, in South West France.
Each player becomes a project manager who needs to work out the best use of his site workers in order to build the longest section of Arriala (canal, in southern dialect). You will be managing the work site and giving orders to all workers. However, only the workers from your own team will enable you to win Kudos Points, which you achieve through work completion, section by section. It is up to you to ensure that you monitor carefully your staffing on site once construction is completed.
Your expertise also encompasses managing vineyards, which are a major contributor in the reputation of the area and more importantly, will allow you to win more points at the end of the game.
Throughout the game, you will discover the local culture and become a major player in the economic growth of this beautiful region of France. MAKE HISTORY and live up to the legacy of Riquet!
You can also get the Module here
Screen Shots
Players