Module:At Any Cost: Metz 1870
From Vassal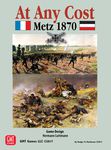 Files
Filename
Filetype
Size
Date
Compatibility
1.9
At Any Costs1.9.vmod
module
18.73 MB
2020-12-15
3.4.11
Module Information
| | |
| --- | --- |
| Maintainer | Stephen Oliver |
| Contributors | iam2509 |
Comments
At Any Cost: Metz 1870 is a game simulating the situation west of the Metz fortress during those few days of August 1870. Vassal Module given permission by GMT Games.
Version 1.4 has corrected a Masked French Activation problem.
Version 1.6 has an updated Chit Cup to separate French & Prussian Events.
Version 1.7 has updated Out-of-Command markers, a remove Markers button at top, and corrected a Setup error in the Afternoon Crisis scenario.
Version 1.8 has "Moved" on the right side of counter after moving plus a Movement Trail but only visible if selected. Also "Place Target" added to mark any unit.
Version 1.9 The Prussian III Corps horse artillery unit now included in the reinforcements for the 'A Beckoning Victory' and 'And It Will Cost What It Will' campaign scenarios; HQs now can enter bivouac; Shaken and Disrupted markers now do not obscure the unit ID.
No charts are included in the vassal module.
Screen Shots
Players