Module:Avec Infini Regret
From Vassal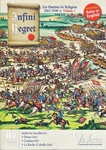 Files and Module Information
Comments
With Permission from the Designer Florent Coupeau, Laurent Closier, and VaeVictis I present Avec Infini Regret, which is based off of Ben Hull's Musket & Pike series. The game has simplified a lot of the Musket & Pike rules, yet has maintained the flavor. A great game system for newbies to jump into to understand the system.
31MAR2020 = Version 1.22 modifications to the 1.1 modules include: Consolidated rt-click menu items for Troop units; Implemented Orders counters in place of labels; Orders appear on the Leaders Masked with added GKC on menu bar for revealing Orders counters; When you replace a deceased Leader with a subordinate they are automatically sent to the Dead box; Implemented Player sides (Royal, Protestant & Solo) for each player to sign in as.
- In the Battle for La Roche-l'Abeille module the Protestant player (only) has a hidden "Entry Hex" game marker they can
   place on the board at the beginning of the scenario (re: Special rule) and which they can relabel & reveal.

19NOV2014 = Version 1.1 modified mouse over view to see hex numbers and trimmed down Dreux by a couple of megs
Screen Shots
Players
zhodani
nwright
Rick Galli
Monte
olsalt