Module:Backgammon
From Vassal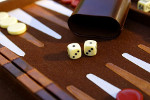 Files
Module Information
| | |
| --- | --- |
| Maintainer | Rups |
| Contributors | Rups |
Comments
Freeform backgammon: no pre-implemented game rules, just play following the rules you agreed upon with your opponent.
This module provides all the accessories needed to play backgammon and most of its variants: the backgammon board, 2 sets of stones with 15 stones each, and a pair of dice.
V 1.0
Black and white game pieces with grayscale game board.
Dice can be rolled using dice toolbar command.
No functionality for player to indicate he has finished his turn, need to use chat to do so..
V 1.1
New dice rolling button next to the game board.
Lock/unlock dice functionality: when green the dice icon is unlocked and clickable; after clicking the dice icon its red color indicates that is has been locked;
clinking on the next icon unlocks the dice, indicating that the player has finished his turn.
Added sounds for rolling dices and next player to move.
V 1.1.1
V 1.2
Changed the colors of the board and game pieces to purple tones
Dice icon can not be moved anymore, only clicked
V 1.3
Replaced roll dice/next buttons by one single button: when button shows dices they can be rolled, after which the next icon appears; clicking on next shows the dice icon again
and allows the dice to be rolled.
Fixed movement report of game pieces coming from pip1.
V 1.4
Added boards with various colors, the dice/next icon gets the same color as the board
Added pieces with various colors
Added a button that draws a big red cross on the board, that can be used to notify the other player of a mistake.
Screen Shots
Players