Module:Balkan Front
From Vassal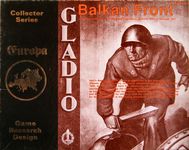 Files and Module Information
Comments
Version 0.01 notes (DanielTShaw) A playable module. I've not called this version 1.00 yet as it as not been played on line or even solo for a long game. Do let me know how it works for you.
Version 0.02 notes (DanielTShaw) Minor graphics error fixed.
Version 0.20 notes (DanielTShaw) Updated module with minor corrections, extra game markers and Albania'39 scenario, the Italian invasion of Albania.
Screen Shots
Players