Module:Baptism by Fire: The Battle of Kasserine
From Vassal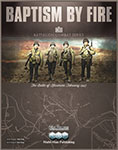 Files
Module Information
| | |
| --- | --- |
| Maintainer | Jim Pyle |
| Contributors | Jim Pyle |
Comments
ver 3.03
1. Fixed HQs not staying to top of stack when stack moved
2. Added Fire Event Marker
3. Act Chits can now be cargo

ver 3.01
Fixed problem with 1 Gd HQ Mat

ver 3.00
Major change to using Mats for HQ display cards. Will need VASSAL 3.6.3 or later for these to work.
1. Added "Mats" for HQ formation display cards. See HELP button notes on how to use these.
2. Some standardization between BCS modules
NOTE: For changes to take effect need to load a vsav game file and then from menu bar select Tools/Refresh/Run. This will probably put VP hex markers on top of stacks so after refreshing, select them (Alt-Left-Click) and then press the down-arrow key to force the markers to the bottom.
ver 2.22
Main changes were to update to "As Printed" BCS ver 2.0 chart and get module in a more standardized form for BCS
1. Changed so that HQs on OOAs will not reset when clicking "Reset All HQs" button.
2. Changed Ger Reinf to Axis Reinf button
3. Units now have menu choice to add "Temp Support Drop" markers
4. "As Printed" version 2.0 charts
5. Standardized chart tabs with BCS series
6. Can't accidentally move "Chit Count" marker on Optional Rule window

Ver 2.20
1. Updated to Version 2.0 of the charts
2. Added reporting of flipping counters and increasing/decreasing unit steps
3. Updated to VASSAL 3.5.0
Be sure to see the "HELP" button for list of module features. A pre-setup game or other saved game must be loaded for this help to appear.
Version 2.00
update is to get a similar module format for the three games currently in the series. It includes major changes including Order Markers, Activation Smoothing optional rule and some other minor features so it is not compatible with version 1.00
Screen Shots
Players