Module:Bataille de la Marne 1914
From Vassal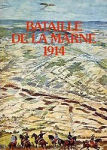 Files
Module Information
| | |
| --- | --- |
| Maintainer | Pierre Bulle |
| Contributors | Yves Le Quellec |
Comments
I would first like to thank Yves who completely took over the graphics of the original game, who designed the 2 what if and thus allowed this game to find a second youth.
The first what if called "Little Schlieffen" starts from the idea that the 2nd army followed by the German 1st turned to the left compared to the original plan but in a much less accentuated way. From the positions of this what if, these 2 Armies can still try to encircle Paris.
The second what if called "Schlieffen / Moltke Plan" we imagine the situation on September 5 if the von Bülow and von Kluck had not turned "left-all" at the end of August 1914! Suddenly with the delay of the Third Army of von Haussen a big hole is created between the 2nd and 4th German Armies.
Version 1.1
-Correct the marker QG IIIe French Army
-The train markers are now positioned near the turn track
Screen Shots
Players