Module:BattleTech: Domination
From Vassal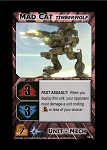 Files
Module Information
| | |
| --- | --- |
| Maintainer | Scott Heise (aka SerEdvard, aka HomerJr) |
| Contributors | |
Comments
In Battletech: Domination, each player starts with an identical, very small deck of cards. In the center of the table is a selection of other cards the players can "buy" as they can afford them. These cards represent military units (BattleMechs, vehicles, and infantry), support cards, and resource cards that the player will use to build an army, develop an economy, and battle his opponent… with the player's deck as the target of attack! Through their selection of cards to buy, and how they play their hands as they draw them, the players construct their deck on the fly, striving for the most efficient path to total domination over their opponent. The player with the biggest deck at the end of the game wins!
Battletech: Domination is not a customizable card game (CCG), but the play of the game is similar to the construction and play of a CCG deck. Each game, you select only 12 Supply card types plus the 4 Base cards to include in any given game – thus the cards available to the build your deck are different each game, leading to immense variety and replayability. No two games will be the same!
Disclaimer: This is an unofficial, unauthorized, non-profit, fan-made game and is in NO WAY associated with The Topps Company, Inc. or Catalyst Game Labs. It is a pure labor of love! Battletech, 'Mech, and MechWarrior are registered trademarks of the The Topps Company, Inc. I do not claim possession of any licenses for use of Battletech source material, nor do I claim any credit for the artwork used in the game. I have obtained permission from the original artists for use of their artwork whenever possible.
THANK YOU to the artists who gave me their personal blessing to use their amazing artwork in Battletech: Domination: Alex Iglesias (FlyingDebris), Anthony Scroggins (ShimmeringSword), Florian Mellies (SpOoKy777), Kristian Borg (Punakettu), and Mike Jackson (SteamPoweredMikeJ); and also THANK YOU to all of the other artists who I haven't been able to contact directly (hopefully you're ok with your work being in the game!).
Screen Shots
Players