Module:Battle Hymn Vol.1: Gettysburg and Pea Ridge
From Vassal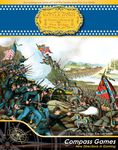 Files
Module Information
| | |
| --- | --- |
| Maintainer | Stephen Oliver |
| Contributors | iam2509 |
Comments
Battle Hymn Vol. One includes two games: Gettysburg: The Tide Turns and Pea Ridge: The Struggle for Missouri.
Battle Hymn is a new brigade-level game system that simulates the chaos of the America Civil War using a simple activation system combined with a detailed combat system.
Please read the VASSAL Instructions under "Charts" for special features of the vassal module. Thanks.
Version 1.4 has "Automated Morale Checks which comes in quite handy in online play.
Version 1.5 Gettysburg corrected an issue with yellow "Battle Hymn" showing in Chits in players' hands, and players can use "Mask" command to turn them over to correct side. Also corrected Chits on Turn Record Track entering players' hands before available.
Versions 1.6 corrected issues some players had with showing game maps. Also replaced some icons.
Battle Hymn VASSALs given permission by game designer Eric Lee Smith & Compass Games.
Screen Shots
Players