Module:Battle of the Bulge
From Vassal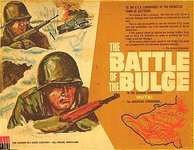 Files
Module Information
Comments
Avalon Hill 1965
Module Created by: Brian Mason
Contact me at brian4482@gmail.com
Boardgame Geek Page http://www.boardgamegeek.com/boardgame/16444/the-battle-of-the-bulge
Version History
1.0 05/26/12 Initial offering.
1.1 05/31/12 Minor modifications to markers.
1.2 06/23/12 Added German Prototype to Lehr 6-4 1st Reg unit.

Avalon Hill released Battle of the Bulge in the early years of war boardgames. Some things (like hex numbering) had not been standardized yet. Vassal does not support the numbering scheme that Battle of the Bulge uses so I used one of the current numbering schemes. I did not make an updated map for the new scheme however. Since this game is almost 50 years old, I do not believe that making an updated map would benefit anyone.
Screen Shots
Players