Module:Battles for Prydain: Heroic Combat in Dark Age Britain 450-650 AD
From Vassal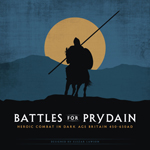 Files
Filename
Filetype
Size
Date
Compatibility
0.3
BfP_v0_3.vmod
Module
28.11 MB
2019-12-12
3.2.17
0.2
BfP_v0_2.vmod
Module
28.11 MB
2019-08-27
3.2.17
Module Information
| | |
| --- | --- |
| Maintainer | Christopher Scholz |
| Contributors | - |
Comments
Battles for Prydain is a tactical level simulation that examines the fall of post Roman Britain by looking at 10 individual battles fought between 450 AD and 650 AD. Years of research reveals not just why these post-Roman kingdoms fought, but how they fought. Featuring warlords, javelin armed cavalry, Saxon shield walls, and special rules for Arthur (yes, the Arthur!), Battles for Prydain presents this period in history in a way never before attempted. In addition to extensive historical notes, the game uses a common rules set and counters to examine the following battles:
Aylesford (455)
Badon (ca. 516)
Camlaan (ca. 537) Two versions
Arthuret (573)
Deorham (577)
Argoed Llwyfain (577)
Alclud Ford (ca. 580)
Degsastan (603)
Maserfelth (641)
Strathcarron (642)
Scenarios are designed for two players, but a lack of hidden information makes the game highly suitable for solitaire play.
It's Saxon versus Briton, Scot versus Northumbrian, and Penda of Mercia against everybody!
Permission for VASSAL module given by designer Eleazar Lawson.
Players