Module:Battles with the Gringos, Mexico 1846-62
From Vassal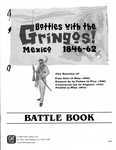 Files and Module Information
Comments
Authorised by GMT Games
v2.03/2.04
Added missing F0 fatigue banners for two types of infantry.
Added an Attack "marker" for use with independent cavalry units who can change their individual orders; a marker is necessary because the banner used at the brigade level would be placed in the same location as a Charge! banner (on the top edge of the counter).
Changed the color of the Hits/Collapse text on French Marine units to yellow (red gets lost in the brick colored French counters)
Placed missing Fatigue banners for French Chasseurs at Puebla.
v2.02
Added a Fatigue Level marker to help with the individualized fatigue levels. Use the marker to assign Fatigue at the Brigade level, and then separately mark regiments which differ from the rest of the brigade. This will cut down on "flag clutter" on the counters.
v2.01
Added LOS thread that also reports range.
v2.0 This is a features upgrade for all four battles.
The module interface has been expanded and improved.
All four maps have been given reporting hex grids, and the zoom levels have been reconfigured.
All pieces have been reorganized into trays (each under a master Pieces button menu) that can be expanded for the game at hand.
Many of the features specific to the GBACW series are supported by right-clicking the counters. Specifically, note that fatigue can be documented on a per-regiment basis, in keeping with some of the Special Rules in BwtG.
Pieces all have nationality-coded movement trails.
A Withdrawal Point display has been added for each battle, to keep a running tally of these crucial statistics.
The AM system has been re-tooled, with a "Draw Kepi"; the AMs can be flipped to show thier back sides only when placed in the draw kepi, to add to the suspense, and to avoid the misconception that the piece showing at the top of the kepi stack "will be" the next AM drawn.
A 1d6 button has been added, to support the variable fatigue rules in some of the battles.
Screen Shots
Players
Some Guy
jeb123
Stiglr
Victor Louie}