Module:Betrayal At House On The Hill
From Vassal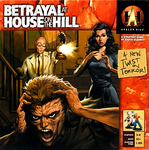 Files and Module Information
Comments
Betrayal at House on the Hill quickly builds suspense and excitement as players explore a haunted mansion of their own design, encountering spirits and frightening omens that foretell their fate.
Betrayal at House on the Hill is a tile game that allows players to build their own haunted house room by room, tile by tile, creating a new thrilling game board every time.
Secretly, one of the characters betrays the rest of the party, and the innocent members of the party must defeat the traitor in their midst before it's too late!
To play you'll need the "traitor's tome" and the "secrets of survival" books.
PDF Versions of these books may be downloaded from the Wizards of the Coast's website at http://www.wizards.com/default.asp?x=ah/downloads **note you do not need these downloads for the 2.0 version release**

Version 3.0:
Updated all assets to the 2010 2nd Edition of Betrayal at House on the Hill
- including: rules, haunts, tiles, cards, cutouts, etc.

Added custom decks to determine the traitor if a "secret" traitor is required
Added Name labels to player sheets
Added outlines to game pieces to increase visibility
Added card toggle for square tiles (events)
Removed all player hands (One board for all player sheets/cards, or use the main board)
Added backgrounds
Updates in 2.0:
arrow key movement for miniatures
Dice rolls now show player information along with both the total and individual values for the dice
Integrated the Secrets of Survival and Traitors Tome into the interface
New rulebook and FAQ included
Integrated a 20 scenario fan-made expansion from BoardGameGeek
Updated report data for moving pieces
added turn counter, knowledge/might/sanity roll tokens
reorganized and resized all the windows
shrunk the cards by ~25% to reduce clutter
Omen window now shows a numerical readout instead of miniature images
Alternate player sheets added (optional)
end turn and haunt roll button added
Private chat window for the heroes
(In order to use the private chat window move a hero chat token into the chat window to speak with, then have the traitor switch teams to the "Traitor" player side. Everyone but the traitor can access the Hero chat window.)
Updates in 1.1b:
Dice have been corrected to roll 0-2 instead of 1-6
Naming of dice changed from "d6" to just "dice"
Shuffling is now manual instead of at game start only
Players 1 & 2 added
Room tiles can now be moved without holding down the shift key
Discard pile is now face-down
Screen Shots
Players
Gherardo
Shadoglare
Meta-Stick
The Opportunist
LanceJ84
Christopher
Wolfkin
davidk64
Ares417