Module:Black Death
From Vassal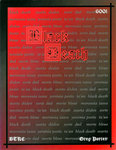 Files
Filename
Filetype
Size
Date
Compatibility
1.10
btrc6001.vmod
Module
1.82 MB
unknown
unknown
Module Information
| | |
| --- | --- |
| Maintainer | bportnell |
| Contributors | bportnell |
Comments
The cheerfully morbid little game of plagues ravaging civilization from BTRC comes to VASSAL.
Version 1.10 contains no rules content and is posted with the permission of Greg Porter/BTRC. The components are all my own work -- no scans, except for the skull-and-crossbones. It's now at 75 dpi, much friendlier on your eyes and the Java machine.
See the help/quick start page in the module for description of the boards and components.
Feedback welcome! This is my first module, and I may have a few others up my sleeve. -- bportnell
BLACK DEATH published by Blacksburg Tactical Research Center. Copyright 1993 by Greg Porter. Used by permission.
Original art and text by Bob Portnell. Copyright 2007 by W. Robert Portnell.
V1.00 is up! I think it does everything it needs to, and in a reasonably smooth manner, but I'm open to polite pointers and suggestions. -- bportnell
And due to popular request -- okay, one request, but he's someone I'll play with, so it's best to make him happy -- all the graphics are reduced to the 75 dpi scale. It still views pretty well on the monitor, the images load much more quickly, and the module size is mightily reduced. I also reworked the dice buttons to deliver friendlier prose and staged the player boards to be slightly more pleasant to work with. There are still a few minor flaws, but I'm not going to chase them just now. Please enjoy version 1.1 of BLACK DEATH. -- bportnell
Screen Shots
Players