Module:Blood Bowl
From Vassal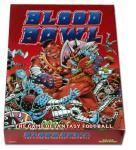 Files
| Filename | Filetype | Size | Date | Compatibility |
| --- | --- | --- | --- | --- |
VASSAL is not allowed to host this file or provide external links to the module in accordance to the wishes of the present Copyright Holder(s)
Module Information
| | |
| --- | --- |
| Maintainer | unknown |
| Contributors | brownrob |
Comments
If you would like to see the module of this game made available please contact the Copyright Holder(s) to change their policy
This is a central repository for game variants of the popular BloodBowl Fantasy Football game. Currently the Dungeonbowl mod is finished, the LRB5 version, of the rules can be found here: DungeonBowl rules
I have added in pitches for other popular variants, such as StreetBowl, Deathbowl, BB7s, Beach Bowl
LRB5 rules of Bloodbowl can be found here:
LRB5 BloodBowl rules
DungeonBowl Changelog
Version 1.3 (3rd June 2007)
Added in boards for Bridge Bowl, Bloodbowl Sevens, Beach Bowl, Street Bowl and DeathBowl
Added Rules for these variants into the Help files
Added a longer Range Ruler, and a Crowd Throwin template
If anyone knows how to add in a Java Class where you can preload a roster from a HTML/XML file, then please let me know, as I suck at that kind of stuff!
Version 1.2 (27th March 2007)
Chests and teleporters now have transparent backgrounds, to blend in with the tiles
Changed the highlight colour to white and thinned the lines to be more visible against the black background
Added a replacement icon for the Norse Snow Troll
Added an L tile, and smaller walkway tiles to allow greater customisation of dungeons. also added a pit tile
Added in an endzone marker to allow custom endzones to be created
I might not have mentioned it before... but I also added in Overview and Zoom capability to the mod to facilitate easy viewing. I also doubled the size of the game board!
Fixed a bug where Norse players wouldnt go stunned/prone!

Version 1.1 (26th March 2007)
Changed icons to accomodate Norse new player positions in LRB5
Version 1.0 (26th March 2007)
Screen Shots
Players
brownrob
eban
Taurin
Antonio
Redhammer
trickster74
feydreva
Wakko
nexusvalhees
Laric
Gromuk
HOPLITA
DirkDastardly3
Layla
LordJesse
ChaosWolf