Module:Blood Bowl: Team Manager - The Card Game
From Vassal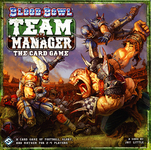 Files and Module Information
Comments
As per FFG policy, all Tournament & Headline card texts are blank to ensure players own a copy.
Version 5.0 fixes, changes and improvements Now Available
Updated with Foul Play expansion
Fixes Champions of Death cards being sent to Human decks during end phases (oops!)
Misc fixes - very seldom seen bugs...
The extensions can be played by themselves with the base module, however when playing with both extensions loaded DO NOT rename the extension files - their loading order at startup is very important and is based on the file names. Changing the file names will cause At Game Start setup issues
Foul Play updated to add trolls to lowdown rats team 2019-08-25
Version 4.2
Updated with Sudden Death expansion
Fixes erroneous Cheat command by upgrading to Vassal 3.2.4
Version 4.1
Updated Morg 'n Thorg cards to reflect slight difference between CWC and OWA
Fixed Wood Elf Freebooter from going to Human hand
Fixed card rotation at start up / player join
Removed superfluous trigger command from Star players' right click menu
Add support for up to 6 players

Rearranged Main map to allow for 5 and 6 player (extra highlight spaces) and prep for expansion
add new players - unassigned 5 & 6

Added Highlight space for Headline "More Sales More matches" - auto draws and places when revealed
Add variant houserule - Spike magazine autodraw a headline w/ Trophy is drawn
Sudden Death extension is ready (to be released separately) - awaiting graphics

added new teams to base module

Reduced Module size under 30Mb
Version 4.0/4.1
complete overhaul of the previous versions by Tim McCarron. Features and Module information can be found in the separate accompanying pdf help file above
Older versions
The Version 3.x, made by Garthnait, is an updated / modified version of Garys 2.7 version of the module. After playing a couple of rounds I realized that some cards were missing. Also we thought about adding 5 to 6 player compatibility.

Changes since 2.7 are:
scanning all cards new in higher quality (excluding the Spike Deck because of the copyright policy)
adding the missing Staff Upgrade Cards
building support for 5 and 6 players
changing the way Star Player Cards are discarded (adding new rightklick options), so the could be discarded to players Discard Pile
changing the way Staff Upgrade Cards are discarded (they now went to bottom of Staff Upgrade Deck after discarding)
Thanks to Gary for creating this awesome Game in Vassal. I love this game so much that I spent my time improving this great Module. > You are welcome! You have done truly amazing work on your version. It is one of my favorite modules now.--Gary Weatherly 12:30, 2 March 2013 (MST)

P.S.: I'm looking for someone who can scan the cards for me in german, for a german version of the module.
Screen Shots
Players
Garthnait
Gary Weatherly
Odysseus3
dgarsys