Module:Blue & Gray II
From Vassal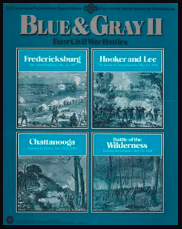 Files and Module Information
Comments
The "Blue and Gray Complete" module contains game files for both Blue & Gray I and II but also Road to Richmond and Road to Vicksburg. The individual modules are from the William Hay archive.
All Version 2.1 & 2.2 vassal modules made by Stephen Oliver.
Thanks to Alan Schmuck to facilitating the correction to Fredericksburg exit hex 2501, now corrected in version 2.2.
Screen Shots
Players
Phillip Weltsch
Alan Schmuck