Module:Bonaparte at Marengo
From Vassal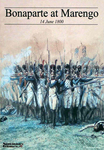 Files and Module Information
Comments
Simmons Games: France vs Austria, 14 June 1800
The Austrian army surprises an outnumbered and outgunned Napoleon. The French are defeated and retreat, but reinforcements counter-attack and win, driving the Austrians from the field.
For rules and more information, visit Simmons Games: Bonaparte at Marengo (dead link, try Simmons Games: Bonaparte at Marengo (via Internet Archive)).
When you run the module, pull down the help menu to see a players guide, which should explain how to use the module.
Version 3.2 11/15/23
Version 2 was built with Vassal 2.7 and the unit masking does not appear to function correctly on even the oldest of the currently popular Vassal versions (3.2.17). I have fixed this and added automatic morale tracking and a "look here" pointer - useful for live play (CTRL-Click).
Simmons Games website is now gone - Internet Archive link added.
Version 2 8/24/06
Mark Buetow discovered an error in the map. Marengo was missing the cavalry and artillery penalties firing out of Marengo. The gray lines were so light on the white background that I had to rework the map extensively, and I blew it. My deepest apologies. (You can see the error in the gallery below.)
Progress - 8/11/2006 Wow! It's almost been a year since I made an entry. Good news, rather great news! Stan Hilinski has volunteered to take up the baton with this project. I appologize for my lack of progress here but hopefully Stan can dust this project off and get it out to the players.
Progress - 9/18/2005 Need to experiment with stackable v. non-stackable pieces to see which one gives the best results when different pieces have different rotations in the same area. I may need to go back an define the pieces as true squares rather than rectangles to get the best results.
Progress - 9/11/2005 Life gets in the way but I finished defining the map areas. Next up are the pieces.
Progress - 8/26/2005 I'm planning on finishing defining the map areas this weekend then start on the counter traits.
Progress - 8/8/2005
Cut map into 4 sections to improve memory performance.
Defined the areas in 3 of the 4 map sections.
Created a test piece to move around on the map to check areas already defined.
Started work on piece images
Screen Shots
Players
jwboone62
Bizzio
MedievalBanquet
ScottK
ges
pfglenn
SimmyP
mawiker
ontangent
Kitfoa
goldenboat
Diego
zylin
ktodd
mking
effestop
lpauperio
yams69
dejanas
LukeSineath
Castaway99
onibaloney
asdnart
leopoldo77
xrubio
TommieSL
Noman
LordJesse
Arlecchino
Mazzer
guzzoid
yankeeap
Noman
fatih
gittes
Darcy Burgess
Hipshot
dangermike
cws
Ian Clarence