Module:Brave Little Belgium
From Vassal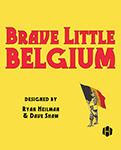 Files
Module Information
| | |
| --- | --- |
| Maintainer | Ryan Heilman |
| Contributors | Ryan Heilman, Tim Porter |
Comments
Setup:
Guard Civique Counters - For each, roll two dice (using the 2d6 Toolbar button) and check the Garde Civique Setup Chart (first die, row, second, column). Place the counter in the indicated Box (if "None", put it in the game box). Do not examine the counters. Two Garde Civique may be placed in the same Box, but if the roll would place a third, re-roll.
On the 2nd,3rd, and 4th Turns, add the new activation chits on the turn track by dragging and dropping them on to the Facedown chits located in the Pulled Chit Box.
Dice: Use the toolbar buttons to roll dice based on the desired "to hit" number. From 1 to 8 dice can be rolled by selecting the desired number.
Version 1.2 - Usability & messaging improvements:
Named areas added to document the map locations of units.
Dice menus added to document the "to hit" number being rolled.
Flip keyboard shortcut changed from CTRL-M to CTRL-F for 2 units of the French 5th Army.
Stacking parameters changed.
Screen Shots
Players
Lee "MadCartographer" Smith